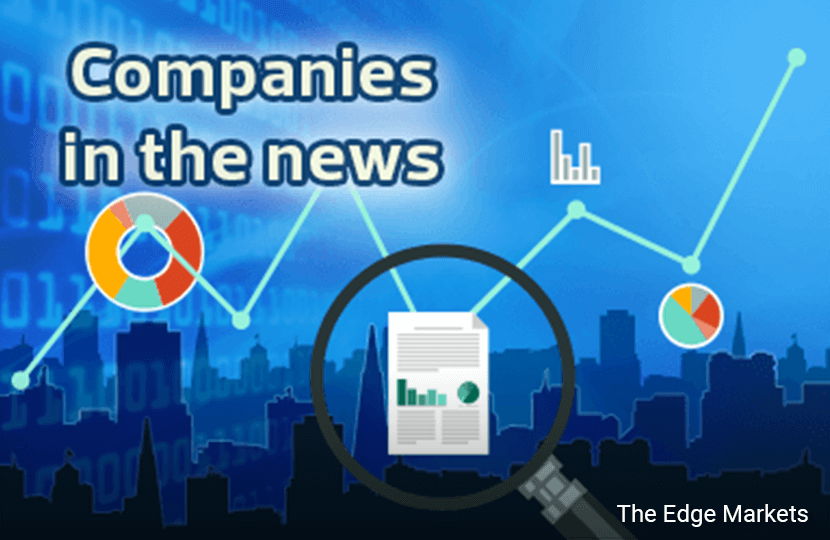 KUALA LUMPUR (Oct 27): Based on corporate announcements and news flow today, companies that may be in focus tomorrow (Wednesday, Oct 28) could include the following: WCT, Brahim's, BAT, IGB REIT, MAHB, Globetronics, Perstima, RHB Cap, IOI Corp, Seremban Engineering and Kinsteel.
Builder cum property developer WCT Holdings Bhd has clinched a procurement, construction and commissioning (PCC) of civil and infrastructure works worth RM267 million from PRPC Utilities and Facilities Sdn Bhd, a subsidiary of Petroliam Nasional Bhd (Petronas).
In a filing with Bursa Malaysia today, WCT said its wholly-owned subsidiary, WCT Bhd, received a letter of award from PRPC yesterday (Oct 26), for the PCC job.
The PCC works are for Petchem Interconnecting and 6900 Area, and Petchem Interconnecting South Area, which are expected to be completed in 31 months from the effective date.
Under the contract, WCT is tasked to complete the earth works, concrete works, storm water drainage system, roads and paving, miscellaneous works, underground piping, earthing networks, procurement, temporary works and utilities.
 
Brahim's Holdings Bhd has accepted Singapore-listed SATS Ltd's offer to buy its 49% stake in Brahim's Airline Catering Holdings Sdn Bhd (BACH) for RM218 million cash.
In a filing with Bursa Malaysia today, Brahim's said its board of directors, after careful deliberation, has decided to accept the offer, subject to the execution of the definitive agreement(s) for the proposed disposal.
Affin Hwang Investment Bank Bhd and Hong Leong Investment Bank Bhd have been appointed by Brahim's as the joint principal advisers for the proposed disposal.
On Oct 22, the airline catering services provider had received a conditional binding offer from SATS' wholly-owned subsidiary, SATS Investments Pte Ltd, to acquire 490,000 shares or a 49% stake in BACH.
Under the offer, SATS is proposing to pay Brahim's in two stages: RM110 million upon completion of the transaction, while the remaining RM108 million is conditional upon certain financial targets being achieved.
 
British American Tobacco (Malaysia) Bhd (BAT)'s net profit rose 6.55% to RM256.89 million for the third quarter ended Sept 30, 2015 (3QFY15), from RM241.10 million a year ago, on lower revenue and higher operating costs.
In a filing with Bursa Malaysia today, the group said its revenue for 3QFY15 fell 3.99% to RM1.16 billion, from RM1.21 billion in the previous year.
BAT declared a third interim dividend of 78 sen per share, amounting to RM222.71 million, for the financial year ending Dec 31, 2015, payable on Nov 26.
For the nine-month period (9MFY15), net profit rose 0.13% to RM715.53 million, from RM714.59 million last year. However, revenue slipped 1.86% to RM3.52 billion, from RM3.59 billion.
BAT said it expects legal cigarettes volumes to suffer, after the steep increases of excise in the last two years and the pressure on consumers' disposable income in the last two quarters.
The tobacco product maker added that illegal cigarette trade in Malaysia remains a key challenge in 2015, for the legal tobacco industry.
Nevertheless, BAT said it continues to be very encouraged by the relentless enforcement efforts taken by various enforcement agencies, and in particular the Royal Malaysian Customs, to address the illegal cigarettes trade.
As a result, the group noted the outlook for the rest of the year will depend on the recovery of the legal market.
IGB Real Estate Investment Trust (IGB REIT) saw its net property income for the third quarter ended Sept 30, 2015 (3QFY15) grow 6.3% to RM85.17 million, from RM80.12 million a year ago, driven by higher total rental income for the period.
In a filing with Bursa Malaysia today, the manager of the Mid Valley Megamall and The Gardens Mall said its revenue for the quarter increased 7.5% to RM121 million, from RM112.6 million, due to the same reason.
Its distributable income for the quarter amounted to RM74.7 million or 2.14 sen per unit, consisting of realised profit of RM65.1 million and the non-cash adjustment arising mainly from manager fee payable in units of RM8.1 million.
IGB REIT did not declare any distribution for the current financial period ended Sept 30.
For the cumulative nine months (9MFY15), IGB REIT's net property income added 10.7% to RM261.6 million, compared with RM236.3 million in 9MFY14.
Revenue for the period gained 7.5% to RM367.8 million, versus RM342.2 million last year.
Its distributable income for the current period-to-date amounted to RM229.8 million or 6.61 sen per unit, consisting of realised profit of RM200.9 million and the non-cash adjustment arising mainly from manager fee payable in units of RM24.6 million.
Given the current satisfactory performance of its existing business portfolio, the operational results of IGB REIT for the financial year 2015 ending Dec 31 are expected to be satisfactory, it said.
Airport operator Malaysia Airports Holdings Bhd (MAHB) saw its net profit jump more than 41-fold to RM68.5 million or 1.63 sen per share in the third quarter ended Sept 30, 2015 (3QFY15), from RM1.61 million or 0.12 sen per share a year ago, driven by robust growth from its operations in Turkey, which surpassed its passenger growth forecasts, as well as higher revenue and passenger movements at its airports in the current quarter.
Revenue for 3QFY15 increased 50.6% to RM1.02 billion, from RM675.76 million in 3QFY14.
For the nine months period (9MFY15), MAHB's net profit dropped 5.7% to RM80.74 million or 2.38 sen per share, from RM85.64 million or 6.41 sen per share a year ago, on higher depreciation and amortisation, operating and finance costs.
Revenue for 9MFY15, however, rose 7.7% to RM2.83 billion, from RM2.63 billion in 9MFY14, mainly attributed by the increase in both airport and non-airport operations segments' revenues.
In a statement today, MAHB said going forward, the return of British Airways in May and All Nippon Airways in September, provide the added dynamism required by the aviation industry in Malaysia.
In addition, Air China has returned to KL International Airport in Sepang in October, after a hiatus of three years.
MAHB said it looks forward to enjoying an even greater level of connectivity for its passengers with the re-introduction of these airlines, as they recognise the strong growth opportunities that exist in the Malaysian market.
The group added that Istanbul Sabiha Gokcen's traffic performance remains buoyant and is expected to end the year with a high double-digit growth in the range of 20%, exceeding the 15% growth forecast for the year.
Semiconductor-based product maker Globetronics Technology Bhd saw its net profit increase 33.69% year-on-year to RM23.57 million or 7.28 sen per share in the third quarter ended Sept 30, 2015 (3QFY15), from RM17.63 million or 6.31 sen per share, despite a slight fall in revenue.
The company attributed the higher net profit to better product mix and cost control programmes carried out in the group.
In a filing with Bursa Malaysia, Globetronics said revenue decreased 2.59% to RM88.71 million in 3QFY15, from RM91.07 million in the third quarter of financial year 2014 (3QFY14).
For the nine-month period (9MFY15), the company saw its net profit increase 22.61% to RM60.08 million or 19.76 sen per share, from RM49 million or 17.49 sen per share in 9MFY14; while revenue was flat at RM266.43 million, from RM265.12 million in 9MFY14.
Moving forward, Globetronics said it remains optimistic of achieving satisfactory performance in FY15.
Higher sales and profit margin drove Perusahaan Sadur Timah Malaysia (Perstima) Bhd's net profit up by 78% to RM14.08 million or 14.18 sen per share for the second quarter ended Sept 30, 2015 (2QFY16), from RM7.92 million or 7.98 sen per share in the previous year.
Revenue for the quarter rose 5% to RM176.81 million, from RM168.59 million a year earlier, due to the same reason, according to its filing with Bursa Malaysia today.
The group also declared an interim single-tier dividend of 18 sen per share, payable on Dec 8.
For the half-year period ended Sept 30 (1HFY16), net profit jumped 71% to RM23.39 million, from RM13.64 million in 1HFY15; while revenue climbed 6% to RM335.16 million, from RM317.44 million.
Perstima expects outlook on its environment to remain challenging, as more overseas imports makes its way into Malaysia, coupled with the volatility of the ringgit.
RHB Capital Bhd saw 1,812 of its employees taking part in its its Career Transition Scheme (CTS), which is part of the group's rationalisation exercise.
In a statement today, the country's fourth-largest lender said it has accepted the application of 1,812 employees for the CTS, which was open to its permanent workforce in Malaysia, and completed on Sept 30.
RHB Cap said this represents 11.8% of the group's Malaysian workforce of 15,348 and 13.1% of the group's permanent workforce of 13,787 in Malaysia.   
The group added whilst the number of applications received was much bigger, it is only able to accept the applications of 1,812 employees, in view of its business requirements.
It said employees whose applications have been approved, will be released in batches between November this year to January 2016.
The CTS payout is estimated at RM309 million, and the group expects to achieve an annual personnel costs rationalization of approximately RM193 million.
Palm oil conglomerate IOI Corp Bhd expects a 10% fall in fresh fruit bunch (FFB) production due to the current El-Nino effect and the ongoing haze that has blanketed the region, but said this would provide support for crude palm oil (CPO) prices.
IOI Corp chief executive officer Datuk Lee Yeow Chor said the group is entering seasonal low production period, and that the El-Nino effect and haze has further weighed down production.
This has prompted the group to lower its full year FFB production growth forecast to 3%–5%, from 5%–7% previously.
Nevertheless, Lee said he does not see negative impact to IOI Corp's profitability, adding there is a good chance for CPO prices to go up, when the inventory is declining.
After the group's annual general meeting and extraordinary general meeting today, he told reporters he reckoned CPO prices to likely stabilise at the current level until the end of the year, whilst having the potential to rise further in the first quarter of next year.
However, he declined to specify a specific price range target.
Engineering firm Seremban Engineering Bhd (SEB), whose share price surged 30 sen or 65.22% to close at its one year high of 76 sen today, said it is unaware of the reason behind the unusual market activity (UMA).
In a filing with Bursa Malaysia today, SEB said the board of directors are not aware of any corporate development, business negotiation rumour or report, or other possible explanation that could have accounted for the sharp rise in its volume.
The engineering firm received an UMA query from Bursa today afternoon. It was the second top gainer on the bourse today, with some 27.19 million shares exchanging hands between 48.5 sen and 76 sen.   
Loss-making steel maker Kinsteel Bhd's chairman Datuk Ong Tee Thong has been redesignated as the group's non-executive chairman, effective today.
In a filing with the bourse, Ong, who currently holds a 0.03% direct stake in Kinsteel, is currently a director at Maju Holdings Sdn Bhd, which is a substantial shareholder of Kinsteel.
(Note: The Edge Research's fundamental score reflects a company's profitability and balance sheet strength, calculated based on historical numbers. The valuation score determines if a stock is attractively valued or not, also based on historical numbers. A score of 3 suggests strong fundamentals and attractive valuations.)