This article first appeared in The Edge Malaysia Weekly, on September 9, 2019 - September 15, 2019.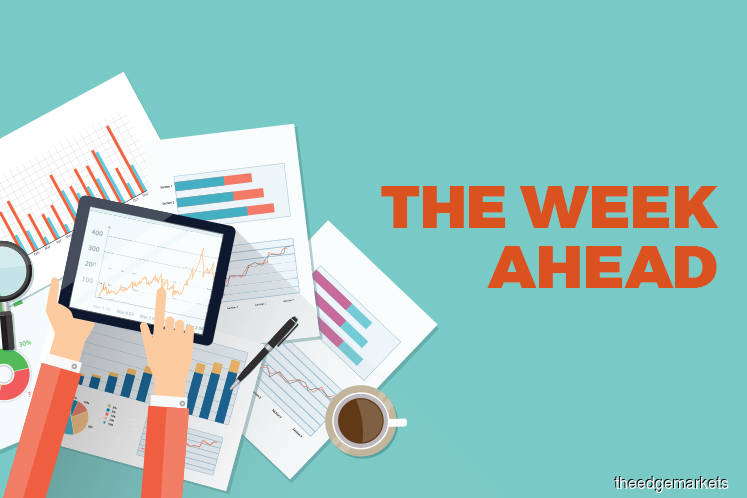 It will be another holiday-shortened week as the birthday of the 16th Yang di-Pertuan Agong Al-Sultan Abdullah Ri'ayatuddin Al-Mustafa Billah Shah falls on Monday.
However, there will be a string of economic data releases to keep the markets busy, with the highlight being the central bank's decision on whether to cut, keep or increase its key interest rate on Thursday.
Bank Negara Malaysia is the only major Asia-Pacific central bank with a monetary policy decision due this week.
Despite the recent synchronised rate reductions by other central banks, consensus is skewed towards Bank Negara standing pat on the 3% overnight policy rate (OPR), considering that it had in May made one pre-emptive 25 basis points cut — which was akin to an insurance rate cut rather than one needed by the economy.
Most economists say the central bank is likely to wait until after the outcome of the US Federal Reserve rate decision on Sept 17/18, the US-China trade talks and Malaysia's Budget 2020 announcement in October before making any change to the OPR.
Still, there are some economists and fund houses, including ING Asia, who are of the view that there will be a rate cut of 25 basis points by Bank Negara to stimulate the local economy, which is finding it harder to outperform in an increasingly unfriendly external trade environment.
With a persistently low-inflation environment, a trend which has a long way to run amid low commodity prices, Bank Negara will still be left with more policy space for the future. The lowest rate the OPR has fallen to was 2% during the global financial crisis in 2009.
Other countries having holidays include South Korea (Sept 12 to 14), China and Taiwan (Sept 13) and Hong Kong (Sept 14).
It is a rather light data week for Singapore, with the release of its August foreign reserves data on Sept 9 and July retail sales on Sept 12. Domestic attention will be on election chatter after the Elections Department Singapore announced the formation of an electoral boundaries committee on Sept 4 — seen as the first formal step towards a general election that has to be held by April 2021.
An important Asian economic data is China's August inflation and trade data, which will be released on Sept 8.
A Bloomberg poll suggests that China's exports growth in August decelerated by 2% year on year, down from 3.3% y-o-y in July. Meanwhile, imports growth is expected to contract 6.5% y-o-y, with a smaller trade surplus of US$42.45 billion (RM177.15 billion) compared with US$45.06 billion in July.
China's aggregate financing data, which will be announced between Sept 10 and 15, may surge higher to RMB1.7 trillion (RM997 billion) in August, up from RMB1.01 trillion in July.
China will also be announcing its August Consumer Price Index (CPI) on Sept 10, which is expected to slow to 2.6% y-o-y, from 2.8% y-o-y in July, while the Producer Price Index (PPI) is likely to dip 0.9% y-o-y.
Other important Asian data include Taiwan's August trade (Sept 9), the Philippines' July trade (Sept 10), Malaysia's July industrial production (IP) (Sept 11), India's August CPI and July IP (both on Sept 12), India's August trade (Sept 12 to 15) and New Zealand's August food prices (Sept 13).
Market attention will also be on British politics as the UK braces for more Brexit-related jostling within the UK Parliament before its shutdown ahead of the Queen's Speech on Oct 14. A bill designed to prevent a no-deal Brexit has since been passed by UK members of parliament and is expected to gain royal assent before the shutdown this week.
All eyes will also be on British Prime Minister Boris Johnson to see whether he will call a snap general election.
The European Central Bank is the only G7 central bank with a policy meeting and decision on Sept 12.
The US Congress returns from summer break on Sept 9 and the immediate task is to pass the appropriations bills for the budget.
The most important US data will be August PPI and advance retail sales.
For the rest of the G7 countries, the key data expected to be released this week include the UK's July trade, IP and construction output (Sept 9), the UK's July unemployment rate and wages (Sept 10) and eurozone's July trade balance (Sept 13).
According to FXTM market analyst Han Tan, over the coming days, the ringgit could see catalysts for moves against major currencies.
"After the extended weekend, the ringgit could still react to the US non-farm payrolls data, as well as Fed chair Jerome Powell's speech on Sept 6. A US jobs print that surpasses market expectations should translate into more dollar strength, which could inversely weigh on the ringgit. Should Powell strike a more dovish tone, that could prompt further declines in the greenback," he says in a report last Friday.
"The US-China trade conflict will continue to have a major impact on broader market sentiment, where further signs of de-escalating tensions could spur Asian currencies higher," adds Tan.
Following the end of the June-quarter earnings season, Malaysia's corporate news flow has started to become relatively slower.
On Sept 11, scheduled waste recycling company Tex Cycle Technology (M) Bhd will be holding a press conference to talk about its new renewable energy business venture with its joint-venture partner from the UK.
Dataprep Holdings Bhd will convene its annual general meeting on Sept 12, while property developers Tropicana Corp Bhd and Paramount Corp Bhd will convene their respective extraordinary general meetings on Sept 13.