This article first appeared in The Edge Malaysia Weekly, on August 3, 2020 - August 09, 2020.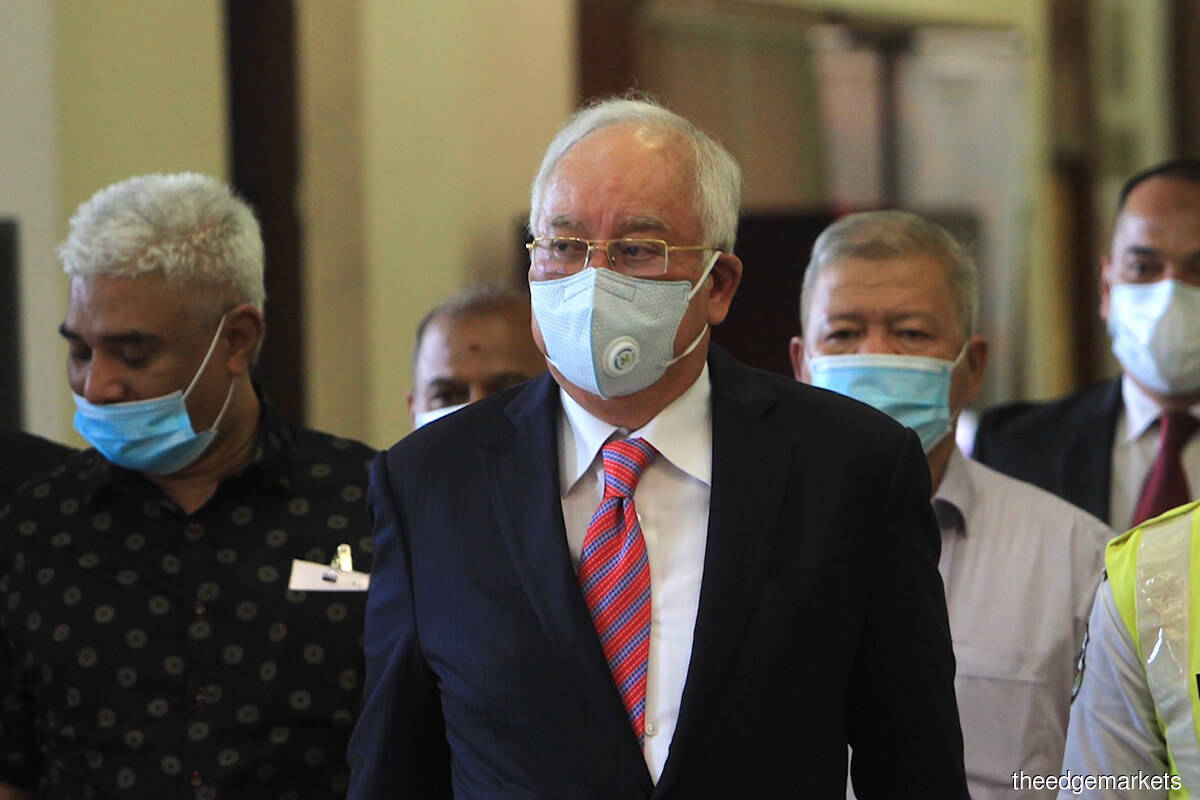 Former prime minister Datuk Seri Najib Razak will feature prominently in the news yet again this week as the 1Malaysia Development Bhd (1MDB)-Tanore trial resumes Monday. The solar graft trial of his wife, Datin Seri Rosmah Mansor, will also resume that day.
Najib faces four charges of abusing his position to obtain bribes totalling RM2.3 billion, and 21 charges of money laundering involving RM4.3 billion. Last Tuesday, in a separate case, the High Court convicted Najib of all seven counts of abuse of power, criminal breach of trust and money laundering in relation to RM42 million belonging to SRC International Sdn Bhd. He became the first Malaysian premier to be convicted of corruption.
Meanwhile, in the solar graft trial, Rosmah faces charges of soliciting RM187.5 million from Jepak Holdings Sdn Bhd between January and April 2016, and receiving RM5 million and RM1.5 million in 2016 and 2017, respectively. The prosecution's 16th witness in the case, Rayyan Radzwill Abdullah, will resume being cross-examined by the defence.
On the corporate front, there may be news updates on the dispute between Petroliam Nasional Bhd (Petronas) and the Sarawak government over a RM2 billion state sales tax. On June 23, it was reported that they would settle their dispute out of court, with Petronas expected to withdraw its appeal at the Court of Appeal. Judge Kamaludin Md Said fixed Monday for mention.
There could be interesting political moves this week after Umno president Datuk Seri Ahmad Zahid Hamidi announced on July 30 that the party will not join the informal Perikatan Nasional coalition and will instead strengthen its Muafakat Nasional (MN) pact with Pas and other component parties of Barisan Nasional. In a statement, Ahmad Zahid also said that Prime Minister Tan Sri Muhyiddin Yassin, who leads PPBM (Bersatu), had expressed a desire to join MN. If Bersatu does indeed join, it will raise MN's seats in parliament to 88 from 58.
On Friday, the Department of Statistics Malaysia will release industrial production data for June as well as quarterly labour statistics. In May, the Industrial Production Index fell 22.1% year on year, slowing for the third consecutive month.
On Monday, the July reading of the IHS Markit Malaysia Manufacturing Purchasing Managers' Index (PMI) will be out. Bank Negara Malaysia will provide the latest updates on its foreign reserves level on Friday.
Over in China, the focus will be on the July trade data, which will be released on Friday, for a gauge of how the world's second largest economy is faring amid the global Covid-19 pandemic. On Monday, there is the release of the Caixin China PMI Manufacturing data for July.
Japan will announce second-quarter gross domestic product numbers on Monday, Indonesia on Wednesday and the Philippines on Thursday. A Bloomberg poll sees Indonesia's economy contracting 4.5% y-o-y from -2.97% in the first quarter. As for the Philippines, the economy is seen to shrink 9% y-o-y from -0.2% in the first quarter.
Central banks in Asia-Pacific that will have interest rate decisions this week are the Reserve Bank of Australia (Tuesday), Bank of Thailand (Wednesday) and Reserve Bank of India (Thursday). Elsewhere, the Bank of England has a monetary policy decision on Thursday.
The Bank of Thailand (BoT) is expected to keep the benchmark rate unchanged at 0.5%. "With rates approaching the zero-mark, policy space is increasingly limited, which may see BoT holding rates this time around. However, policymakers may cut the benchmark rate in September by another 25 basis points to 0.25% to support growth and inflation, failing which, unconventional measures may be adopted," UOB Global Economics & Markets Research says in a report last Thursday.
It does not expect Australia to cut interest rates further at the meeting this week. However, it says India may do so. "RBI had explicitly stated that more (policy) space will open up to address the risks to growth, even after the surprise 40bps cut to its repo rate on May 22. As such, we pencil in a 25bps cut to 3.75% in this meeting, and another 25bps in 4Q2020 to bring the benchmark rate to 3.5%," it says.
Over in the US, it will release its June trade data on Aug 5. There will also be a slew of other economic data releases, including July Markit manufacturing PMI (Aug 3), June factory orders and durable goods orders (Aug 4), July unemployment rate (Aug 7) and consumer credit (Aug 8).
Australia's markets will close on Monday for a bank holiday.
Back home, companies with annual general meetings this week include TH Plantations Bhd, TSH Resources Bhd and Kerjaya Prospek Group Bhd (all on Monday), Focus Dynamics Group Bhd (Tuesday), Sunway Construction Group Bhd (Wednesday) and MyEG Services Bhd (Thursday).