This article first appeared in The Edge Financial Daily, on January 31, 2020.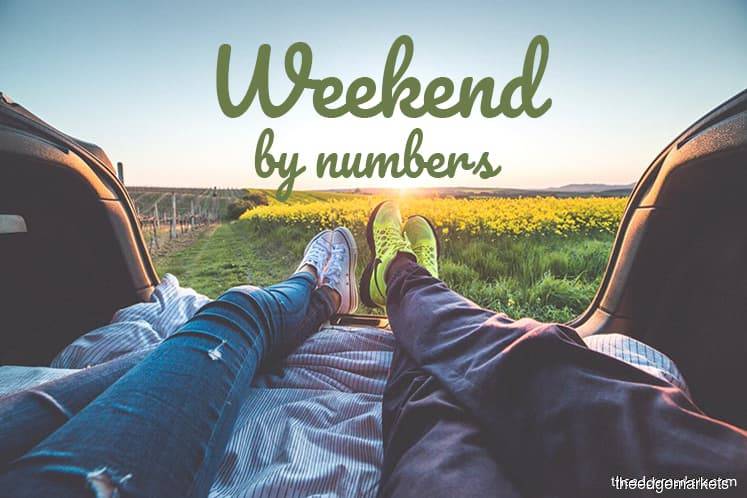 Your quick guide to rest and relaxation.
3 musical marvels
Let's Tour the World!
Our very own Malaysian Philharmonic Orchestra includes talented musicians from more than 29 countries, and to celebrate this incredible diversity the orchestra is performing music from all over the world. Conductor Gerard Salonga leads the ensemble through Trad's Evergreen Malaysian folk songs, Buenaventura's Mindanao Sketches, Li's Spring Festival overture, Smetana's Die Moldau, De Falla's Three Cornered Hate Suite 2: Final Dance Jota, and Bernstein's On the Town: Three Dance Episodes. Performing on Sunday at 2.30pm and 4.30pm. Tickets are priced at RM47, RM75, RM94, and RM122. Dewan Filharmonik Petronas, Kuala Lumpur. For more information visit mpo.com.my.

Tria Aziz & Nuha
The talented besties, Tria Aziz and Nuha, present Hijabi Hi-jinx, an evening of comedy and song. They will entertain the audience with familiar pop hits and jokes that will have you in stitches. Performing today and tomorrow, the show kicks off at 9.30pm. Tickets are priced at RM60 or RM45 for Bobo diners. For more information call (03) 2092 5002 or visit bobokl.com.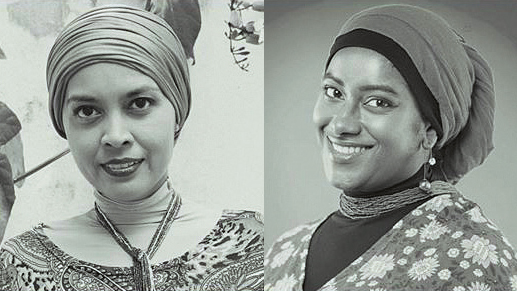 No Standard Gentleman
Fan of jazz? Gabriel Lynch will have you enraptured by swing numbers and crooner classics that we all know and love. Singing the best hits, from What a Wonderful World to Mack the Knife, Lynch will take you on a tour of the most iconic jazz gentlemen. His rich baritone is not to be missed! Joining him on stage is David Dower on the piano, Che Wan on bass, Arthur Kam on drums and Jermaine Wong on keyboard, violin and backing vocals. No Standard Gentleman kicks off at 10pm today and tomorrow at Alexis Bistro Ampang, Great Eastern Mall, 303 Jalan Ampang, Kuala Lumpur. For more information visit alexis.com.my.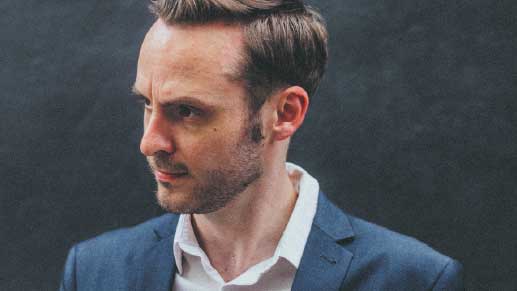 1 exciting exhibition
Chinese New Year Art Attack 2020
In conjunction with the festive season curator Terrie Liew is presenting an exhibition at Lightcraft Gallery Kuala Lumpur. Chinese New Year Art Attack 2020 includes 26 artists whose works give insight into their artistic journey, with a sense of nostalgia and celebration. The 60 artworks on display are up until Feb 15 from 10am to 7pm. Check out these beautiful works and enjoy the expressive details and colours of yesteryear. There is also an opening ceremony today at 3pm. Lightcraft Gallery KL, 98, Jalan Sungai Besi, Chan Sow Lin, Kuala Lumpur. For more information call (011) 6306 1718.

3 staged performances
Malam Sayu Berpuisi
Enjoy a night of raw and moving spoken-word performances today at 8.30pm. Malam Sayu Berpuisi is held outdoors, under the moonlight, with no microphones, books or phones. Poets Hannah, Jasmine, and Aniq Durar will be aided by musicians Kasih Azhar of Senja and Ian Francis of The Filters. The theme for this session is #Wawasan2020, a response to our imagined future that included flying cars and racial equality. Open mic poets for the evening include Mochi, Amal, Emmanuel Yogan Lourdes, Arathi, Abigail Lim, and Azizan'Afi. Tickets are a minimum donation of RM10. The Kuala Lumpur Performing Arts Centre (klpac), Sentul Park, Jalan Strachan, Kuala Lumpur. For more information visit klpac.org.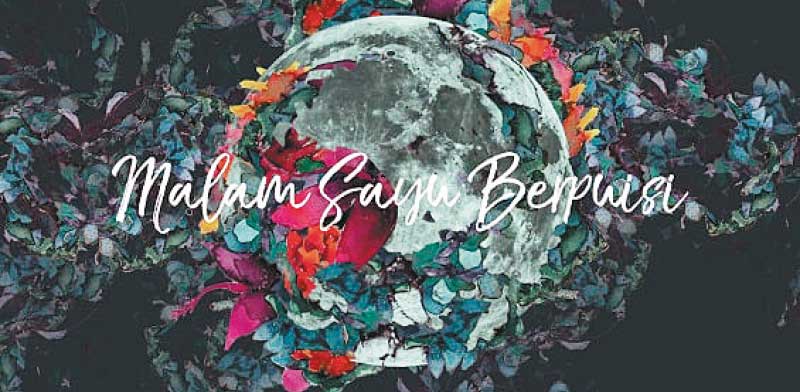 DPAC Spring Fest 2020
To usher in the year of the rat, Damansara Performing Arts Centre (DPAC) is hosting DPAC Spring Fest 2020, which features seven talented acts to entertain audiences. The performance line-up includes Kwang Tung Dance Company, Eight Twelve, Tay Cher Siang, Evelyn Toh, Hand Percussion, Wei Han-Yang, Dance Space, Colour of Voices and Lim Wei Siong. Taking place on Sunday at 2.30pm and 5.30pm. Tickets are RM20 and all proceeds go to the performing arts outreach programme for the indigenous people (orang asli) community. DPAC, H-01, DPAC, Empire Damansara, Jalan PJU8/8, Damansara Perdana, Petaling Jaya. For more information or for tickets visit dpac.com.my.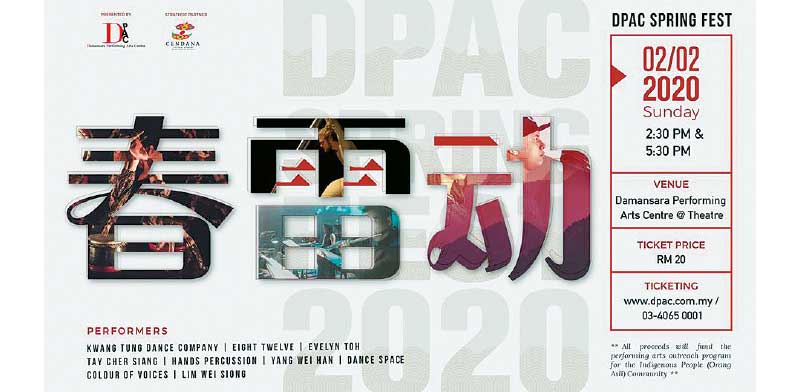 Summaa Potte Udde
If you are a fan of Making Shit Up or Whose Line is it Anyway, check out the fun Tamil version, Summaa Potte Udde. Hosted by Suresh Raaga, this side-splittingly hilarious show will keep you throroughly entertained. Joining Raaga on stage are his pals Hindra Bose, Asu Raajan, Dharsha Mini, Pravina Ragu and Naresh Emperor. Done entirely in Tamil, this show is held today at 8pm. Tickets are RM40 or RM50 on the door. The Joke Factory, Lot 26, Level G3, Publika Shopping Gallery, Jalan Dutamas 1, Solaris Dutamas, Kuala Lumpur. For more information visit thejokefactory.com.my.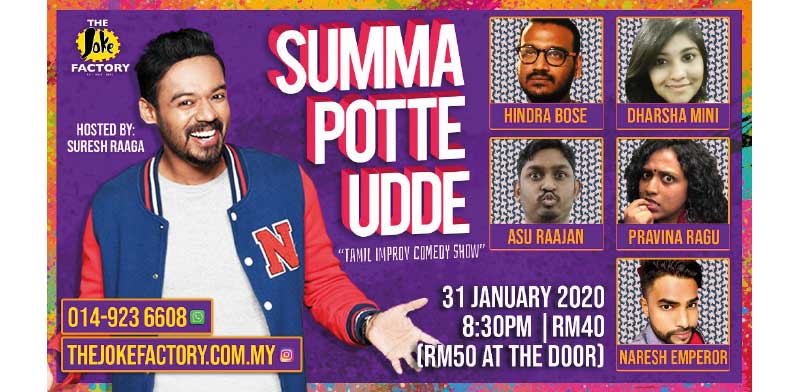 3 wonderful workshops
DIY Clay Face Mask and Lip Gloss
Have you ever wanted to make your own face mask or lip gloss? Here's your chance at this DIY workshop. Great for beginners, this class will provide you all the materials, including necessary tools, and walk you through how to make these must-have beauty products by yourself. Held on Sunday at 11am to 1.30pm, this workshop is priced at RM180 per person. Book your space by 4pm tomorrow to ensure you have a seat. Think at Dua, Unit D-2-48, Block Dahlia 10 Boulevard, PJU6A, Lebuhraya SPRINT, Petaling Jaya. For more information visit craftiviti.com.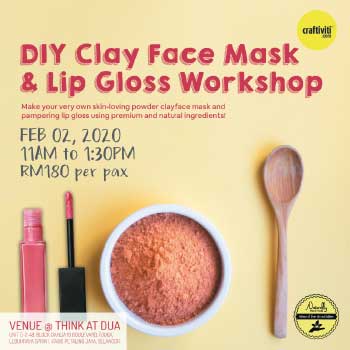 Youth Afterschool Programme with Chumbaka
Take your kids to this after-school programme with Chumbaka for a chance of educational fun. Chumbaka uses technology to cultivate empathy and creativity, and Me.reka conducts tailored programmes to share this theory with children from ages five to 14. These project-based lessons uses special technologies to instill positive values and design thinking. Happening tomorrow at 1.30pm to 3.10pm. Me.Reka, Lot 1C, Level G1 (A4 Entrance) Publika Shopping Gallery, Solaris Dutamas, Kuala Lumpur. For more information visit mereka.my.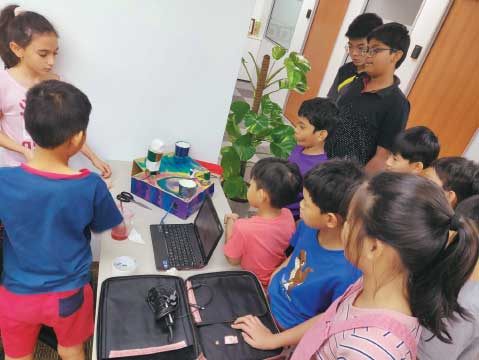 Basic Brush Calligraphy Workshop
Learn all the basics of brush calligraphy with DIYKL co-founder Agnes. This creative art form is a great way to de-stress from your week as well as get your creative juices flowing. No prior experience is required as Agnes walks you through an introduction of calligraphy and hand-lettering, and then takes you through basic strokes and finding your own style. At the end of the session you will be able to bring home a set of practice sheets and a felt tip brush pen. This workshop is RM85 per person. Taking place tomorrow at noon to 2pm. DIYKL, Unit 2-30, Level 2, Block B, Kedai, Mahsa Avenue, off Jalan Universiti, Kuala Lumpur. For more information visit diykl.com.