This article first appeared in The Edge Financial Daily, on March 3, 2020.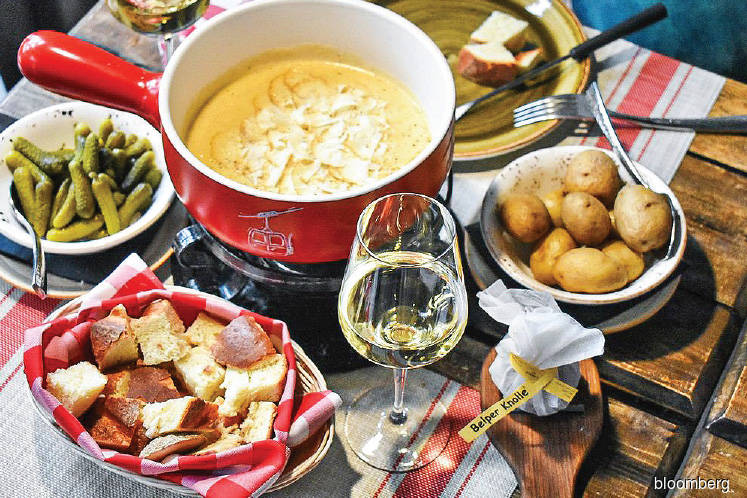 At a time when small plates ruled the table, fondue stands proudly as the ultimate large-format sharing dish, the European alternative to a steaming hotpot in Asia.
Fondue's long, cheesy strands reach back to Homer's The Iliad, when the fromage of choice was made from goat's milk. The dish, at its most basic just cheese and wine, gained international prominence in Switzerland in the 1930s when the Swiss Cheese Union promoted it from obscurity to push a glut of Gruyère and Emmental. The country continues to take fondue seriously, with more than one word to describe its various components. The delectable, crispy crust at the bottom of the pot is la religieuse (or "the nun") for reasons that are not entirely clear. There are also unofficial rules of engagement like a firm no double-dipping policy and "penalties" that might include buying a round of drinks if you lose your bread to the goo.
Switzerland does not have a monopoly on warming pots of melted cheese, however. Mexico has its queso fundido, Singaporeans spike theirs with chillies, and in Korea you will find melted cheese sandwiched between crispy, spicy fried chicken. Following is a tour of the finest fondues around the globe — including chocolate for dessert, and one raclette, in case you want to switch it up.
Take out your long-handled forks and get ready to dip. — Bloomberg
Blue Ribbon Brasserie, New York
Soho's quintessential late-night spot offers up a gooey mix featuring the usual suspects Gruyère and Emmental served with apple wedges, bread cubes, bacon, and crispy potato skins. "We have been serving the fondue since Blue Ribbon opened in 1992. It was one of our favourite foods to eat as kids and just had to be on our menu," says co-owner and chef Bruce Bromberg. 97 Sullivan Street, New York,  the US.
Stable DC, Washington
Stable pays homage to the cuisine of Switzerland with such dishes as crispy potato rösti and landjäger air-cured, smoked sausage. The restaurant's fondues are based on an unconventional blend that includes old and young Schlossberger, a buttery, raw cow's milk cheese, accompanied by house-baked bread. Variations include a hit of Poire Williams eau du vie (fruit brandy) for a sharp, floral kick. 1324 H Street Northeast, Washington, the US.
Bar Amá, Los Angeles
One of the city's top chefs, Josef Centeno, puts queso front and centre on the menu at his Downtown LA Tex-Mex spot. His version, looking like golden cheese soup, arrives at the table in a white enamel bowl, along with a pile of tortilla chips for dipping. It is topped with avocado and salsa, with chorizo as the option. Centeno also provides a vegan version made of cashew cheese with spiced tofu. 118 West Fourth Street, Los Angeles, California, the US.
Man Ray Bar à Vin, Toronto
Finding a lack of decent fondue around Toronto, popular local chef Brandon Olsen decided that had to change. He travelled to Switzerland to research authentic technique and invest in proper equipment — cast-iron burners, rosewood-handled skewers, and specialty pot sets, each costing about US$300 (RM1,260). With that level of seriousness, expect a buzz on an unstoppable mix of Gruyère, Emmental, and Vacherin when the wine bar opens in March. 227a Ossington Avenue, 2nd Floor, Toronto, Ontario, Canada.
Hostal de los Quesos, Mexico City
This taco spot has cheese in its name and a section on its laminated menu dedicated to the stuff. One of the house specialties is el Hostal, a pan of more than half a pound of molten Chihuahua cheese (a traditional choice that is soft, white, and a lot like Monterey Jack) blanketted with a layer of brick-red chorizo, ham, or mushrooms, plus flour tortillas. It makes a great stop going to or from the Frida Kahlo Museum. Avenue Pillares 205, Colonia del Valle, Mexico City, Mexico.
Swiss Chuchi, Zurich
Naturally, Switzerland is full of restaurants serving fine fondues, with Swiss Chuchi, at the Hotel Adler, as one of the most popular. With seating indoors and outdoors, you can choose from a wide range of local dishes, some of them rather unusual. The Lady Fondue features prosecco, pears, cherry liquor, and garlic. Rosengasse 10, Old Town, Zürich, Switzerland.
Warashibe Gyoza, Tokyo
Under the category of unconventional fondues is Warashibe, an izakaya where diners use dumplings as the dipping agent. Tabletop teppanyaki griddles are loaded down with shredded mozzarella and cheddar, then heated until it is all an oozy puddle. The cheese is surrounded by an army of gyoza for dunking; varieties include unconventional, cheese-filled ones as well as classic pork. 1-chome-14 Kandasudacho, Chiyoda-ku, Tokyo, Japan.
Chesa, Hong Kong
Inside the grand hotel is the Swiss alpine-styled Chesa, here the walls are panelled in knotted pine and the specialty is, not surprisingly, cheese fondue. The standard is a bubbling moitié-moitié, a well-seasoned half Gruyère and half Vacherin blend. The over-the-top option is the Montagnarde, a mix of four cheeses with smoked bacon and boiled baby potatoes for dipping. 1/F, The Peninsula Hong Kong, Salisbury Road, Tsim Sha Tsui, Hong Kong (Note: This restaurant is temporarily closed due to Covid-19 concerns.)
Kagurazaka Saryo, Tokyo
This Japanese teahouse is famous for its desserts, including a matcha green-tea fondue. Uji matcha is mixed with white chocolate and served in a bowl into which you may dip sides of bananas and strawberries, plus waffle biscuits. It comes with a scoop of ice cream. (There are now several branches, including in Singapore.) 5-chome-9 Kagurazaka, Shinjuku City, Tokyo, Japan.