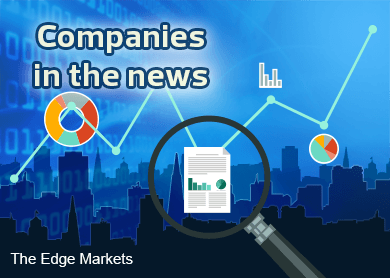 KUALA LUMPUR (May 14): Based on corporate announcements and newsflow today, stocks in focus tomorrow (Friday, May 15) could include: YFG, UMWOG, IOI Properties Group, IOI Corp, Dayang Enterprise Holdings, Perdana Petroleum, Perwaja, Media Prima, MAHB, Century Logistics, plantation stocks, BIMB Holdings and Syarikat Takaful Malaysia (Takaful).
YFG Bhd, which announced its plan to raise up to RM100 million through a proposed issuance of redeemable convertible notes earlier this month, has been fined RM200,000 by the Securities Commission (SC) for knowingly authorising false or misleading statements to be furnished in its amended audited financial statements (amended AFS) to Bursa Malaysia on Nov 5, 2014.
In a filing to Bursa Malaysia today, YFG said the company and its board of directors received letters dated May 13, 2015 from the SC, informing them the regulator had imposed sanctions against them as at Nov 5, 2014, for the above offence.
"SC has found that the impairment loss adjustment of RM3.375 million made in the amended AFS of the company for the financial year ended June 30, 2014, was unascertainable.
"As such, the company is required to rectify and reissue its AFS for year ended June 30, 2014 by reinstating the impairment loss of RM8.442 million, and make the necessary consequential amendments to its financial statements accordingly, within one month from the date of the letter," the announcement read.
UMW Oil and Gas Corp Bhd (UMW-OG)'s net profit for the first quarter ended March 31, 2015 (1QFY15) slid 40% to RM32.1 million or 1.49 sen, from RM53.7 million or 2.48 sen in 1QFY14, due to lower contributions from the drilling segment.
Revenue for the quarter under review was RM312.5 million, up 59.8% from RM195.6 million in 1QFY14, its filing with Bursa Malaysia today showed.
"The profit reduction was mainly due to discounts on time charter rates given to existing clients, in view of the significant drop in oil prices," it said.
For this year, UMW-OG believes its profitability will be affected by the slowdown in the oil and gas industry.
IOI Properties Group Bhd (IOI Prop)'s net profit jumped 20.9% to RM107.8 million in the third quarter ended Mar 31, 2015, from RM89.1 million in the previous corresponding quarter.
Revenue leapt 28% to RM468.4 million, from RM365.8 million a year earlier.
In a statement to Bursa Malaysia, the property developer said better revenue and operating profit were due to improved contributions from all of its operating segments.
On prospects ahead, IOI Properties will continue to focus on affordable housing and landed properties in its existing and new townships.
However, the property developer's parent IOI Corp Bhd (IOI Corp) posted a net loss of RM188 million in the third quarter ended March 31, 2015 (3QFY15), from a net profit of RM2.18 billion a year ago, mainly due to higher net foreign currency translation loss.
This translated into a loss per share of 2.95 sen, compared to an earnings per share (EPS) of 34.2 sen.
Revenue declined 4.25% to RM2.78 billion, from RM2.9 billion a year earlier.
In a filing with Bursa Malaysia today, IOI Corp (fundamental: 1.7; valuation: 2.1) said the group's lower profit was also due to lower contribution from both plantation and resource-based manufacturing segments.
On short-term prospects, IOI Corp said it expects crude palm oil prices to hover between RM2,050 and RM2,250 per tonne in the next three months.
Dayang Enterprise Holdings Bhd has entered into a conditional share sale agreement (SSA) with Affin Hwang Asset Management Bhd to acquire its 5.74% stake in Perdana Petroleum Bhd, which will subsequently be followed by a mandatory general offer (MGO).
According to Dayang's announcement on Bursa Malaysia, the SSA is for it to acquire 42.96 million shares in Perdana from Affin, for RM66.59 million or RM1.55 per share.
Following the completion of the equity acquisition, Dayang's shareholding in Perdana will increase to 35.51%, from 29.77%, and it will then be obliged to extend an MGO.
Ailing steel producer Perwaja Holdings Bhd is seeking Bursa Malaysia's approval to delay the requisite announcement on its regularisation plan by up to two months to July 15.
In a filing to the local exchange today, Perwaja, which fell into Practice Note 17 (PN17) in November 2013, said it had on May 13 submitted the application to the regulator and that the outcome of the application will be announced when it has obtained a decision from Bursa.
To recap, Bursa had on April 13 approved Perwaja's application for a time extension of up to July 31 to submit the company's regularisation plan, but the approval was conditional upon the requisite announcement being made by May 15.
According to Bursa's listing requirements, a PN17 company is required to make the requisite announcement and submit a regularisation plan to the relevant authorities for approval within eight months from the date of the first announcement of its PN17 status.
Media Prima Bhd's net profit for its first quarter ended March 31 (1QFY15) declined 30% to RM18.8 million or 1.7 sen per share, from RM27.02 million or 2.45 sen per share previously, on "continuous market uncertainties" and dampened consumer sentiment, ahead of the implementation of the goods and services tax (GST).
Revenue fell 6% to RM329.39 million, from RM351.03 million in 1QFY14.
In its filing with Bursa Malaysia today, Media Prima (fundamental: 1.65; valuation: 1.4) said it saw lower revenue and profit from across most of its segments, compared to the previous corresponding period.
Going forward, the group expects the remainder of 2015 to be challenging, following the GST imposition and the general uncertainty of the market which is expected to affect business and consumer sentiments.
Malaysia Airports Holdings Bhd (MAHB) foresees a "positive turnaround" in the international passenger movement by May this year.
Although the international sector still remains in the negative, there has been a progressive reduction in the negative quantum, MAHB (fundamental: 1; valuation: 1.4) told Bursa Malaysia in a statement.
MAHB's recorded international passenger traffic slipped 0.4% to some 15.79 million passengers year-to-date, from 15.85 million passenger previously.
Century Logistics Holdings Bhd's net profit rose 18.2% to RM7.47 million or 2.04 sen a share for its first quarter ended March 31, 2015(1QFY15), from RM6.32 million or 1.74 sen a share a year ago, mainly due to higher activity at its procurement logistics services segment.
Revenue for 1QFY15 also increased 4.1% to RM71.92 million, from RM69.07 million in 1QFY14.
In a filing with Bursa Malaysia today, the supply chain solutions provider declared an interim dividend of one sen per share for the financial year ending Dec 31, 2015 (FY15), payable on June 17, 2015.
Century Logistics said it remains confident of its performance in FY15, despite weaker global and uncertain economic climate due largely to the dip in oil price.
Plantation stocks would be closely watched, as Reuters reported Malaysia will keep its crude palm oil export tax for the month of June at zero percent, continuing duty-free exports from this month, a government circular showed on Thursday (May 14).
In April, a 4.5% tax was implemented, based on a tax structure where a monthly crude palm oil reference price above RM2,250 per tonne leads to a duty being imposed. It can run from 4.5% to a maximum 8.5%.
BIMB Holdings Bhd (BIMB)'s group chief executive officer Datuk Sri Zukri Bin Samat said at a press conference after the company's annual general meeting today, that its 60.31%-owned insurance arm Syarikat Takaful Malaysia Bhd (Takaful) has subscribed to Islamic bonds issued by the then Terengganu Investment Authority, worth up to RM85 million.
 
The Islamic bonds that were bought by Takaful (fundamental: 0.95; valuation: 1.5) in 2009, carries 5.25% of coupon rate which will mature in 2039.
According to Zukri, the limited exposure to the bonds would not pose "systemic risk" to the group, as it is only 2% to 3% of Takaful's asset base of RM7.16 billion and is guaranteed by the government of Malaysia.
(Note: The Edge Research's fundamental score reflects a company's profitability and balance sheet strength, calculated based on historical numbers. The valuation score determines if a stock is attractively valued or not, also based on historical numbers. A score of 3 suggests strong fundamentals and attractive valuations.)