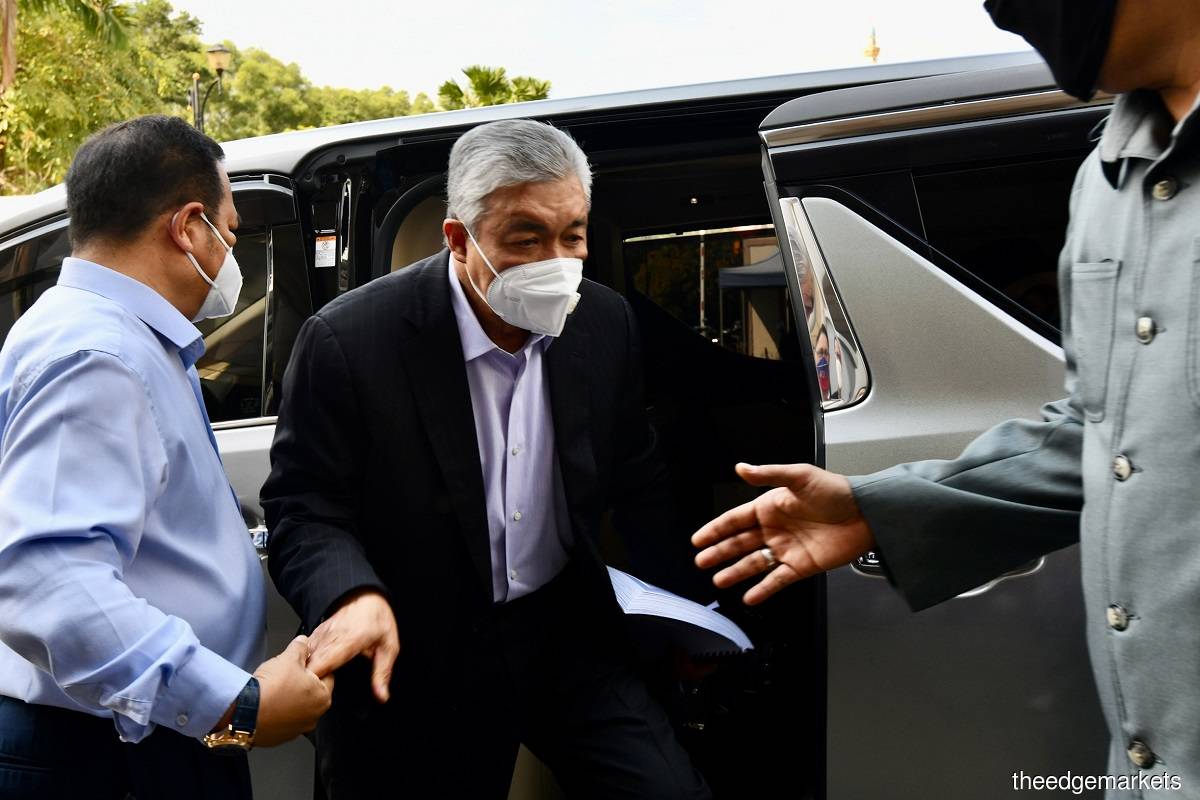 KUALA LUMPUR (June 28): Testifying in his defence at his corruption trial, UMNO president Datuk Seri Ahmad Zahid Hamidi on Tuesday (June 28) said that in the aftermath of the 14th general election (GE14) in May 2018 when the Barisan Nasional coalition lost, three members of Parliament (MPs) from UMNO had jumped from the party to avoid being investigated by the Malaysian Anti-Corruption Commission (MACC) and charged in court for criminal activity.
Zahid, who was testifying before Justice Datuk Collin Lawrence Sequerah, said the three MPs had defected to Parti Pribumi Bersatu Malaysia (Bersatu), which was led by then chairman Tun Dr Mahathir Mohamad, "out of fear" that they would be investigated by the MACC.
"A lot of people saved themselves. Out of 54 [UMNO MPs at that time], three MPs jumped to join PPBM (Bersatu), and I know three of them had cases that I understand were to be investigated by the MACC. Out of that fear, they wanted to save themselves and join PPBM," he said.
Zahid and his defence team claim that the charges against him are "political motivated prosecution" because he did not defect compared to the three MPs.
He mentioned two MPs — one of whom is the current Masjid Tanah MP and the other is Jeli MP.
Zahid said the Jeli MP in Kelantan had taken more than RM30 million which was supposed to be used for election machinery in the state, especially on logistics to bring home Kelantan natives from the Klang Valley to vote.
"He was the UMNO chairman in Kelantan. I was told money was supposed to be used for logistics to bring voters there who are in Klang valley to vote in Kelantan. I was told that more than RM30 million was not used for logistics," he said.
He did not name the MPs, but Datuk Seri Mustapa Mohamed is the Jeli MP while Datuk Mas Ermieyati Samsudin is the MP for Masjid Tanah, and presently a minister in the Prime Minister's department.
Zahid said that the Masjid Tanah MP had taken Puteri UMNO (the women's division of UMNO) funds from the coffers and that both MPs had funnelled the funds into their personal bank accounts for personal use during GE14.  
"This is known by the leadership of UMNO and Puteri UMNO, but when investigations were heard to be carried out, they joined PPBM which was under Pakatan Harapan and they were saved," he said.
Zahid was then cut off by lead prosecutor Datuk Raja Rozela Raja Toran, who told Justice Sequerah that this was hearsay, unless Zahid's lawyers were going to call these witnesses mentioned to testify.
"The witness has been speaking of misusing of funds. Sounds like hearsay, but if they don't call the witnesses then it is hearsay. I understand where he is going. [But] if it is a political assassination if I may say, then this hearsay should not be allowed," she said.
His lawyer Hisyam Teh Poh Teik argued that Zahid should be allowed to expand the ambit of his defence but Raja Rozela expressed concern over the admissibility of his testimony.
Justice Sequerah then allowed Zahid to continue as he explained that the court is letting him testify to advance his defence of political persecution.
"To advance the defence of a political nature, he must stray a little bit. Hearsay can be addressed at the submission stage. To address the witness on his own, leeway can be given. They (the defence) are getting there we allow a little more leeway," Justice Sequerah said.
Zahid was then asked by his lawyer Datuk Ahmad Zaidi Zainal if he had any personal knowledge of these two incidents by the two MPs.
"Yes I do, and I have proof," he said before the trial adjourned for lunch.
After the break, Zahid named the third MP as Bagan Serai MP Datuk Dr Noor Azmi Ghazali.
He said that in the case of Noor Azmi, funds meant for development in his constituency were misappropriated by his younger sibling.
"I saw the documents myself that [the misappropriation] was carried out by his younger sibling. Investigations and charges were going to be [made] against him and he jumped to PPBM. I have facts of the three individuals and I have proof," he said but did not elaborate on Noor Azmi, who is the current Deputy Health Minister.
Also the Bagan Datuk MP, Zahid faces 47 charges — 12 for criminal breach of trust (CBT), eight for corruption and 27 for money laundering — involving tens of millions of ringgit belonging to Yayasan Akalbudi.
Read also:
Zahid: Dr Mahathir asked me to dissolve 'disgusting' UMNO and join PPBM in 2018