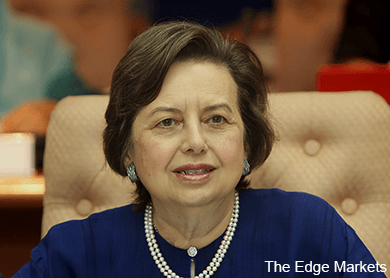 KUALA LUMPUR (Jan 27): Governor of Bank Negara Malaysia, Tan Sri Dr Zeti Akhtar Aziz, has provided her assurance that the central bank will ensure that a potential default of 1MDB's loans will not have systemic implications on the country's financial system.
"We have arrangements to deal with it, so that no individual entity is going to have systemic implications on the overall financial system and on our economy," she told a press after the signing of agreements between the World Bank Group and the government of Malaysia to establish a knowledge and research office in Kuala Lumpur.
"That is the basic principle that will prevail," said Zeti, adding that the central bank does not comment on individual entities.
Any extensions given to 1MDB are not decisions made by the central bank, Zeti said.
"In the case of any extension being provided, that is not by Bank Negara. That is by the lenders who are the commercial banks; they make those decisions," she said, referring to the extensions given by local lenders to 1MDB on its RM2 billion loan that were originally due on Nov 30, 2014.
The first extension given was up to Dec 31, 2014.
Early this month, it was given until Jan 30 to settle the debt due.
Malayan Banking Bhd and RHB Bank Bhd are the lead lenders.