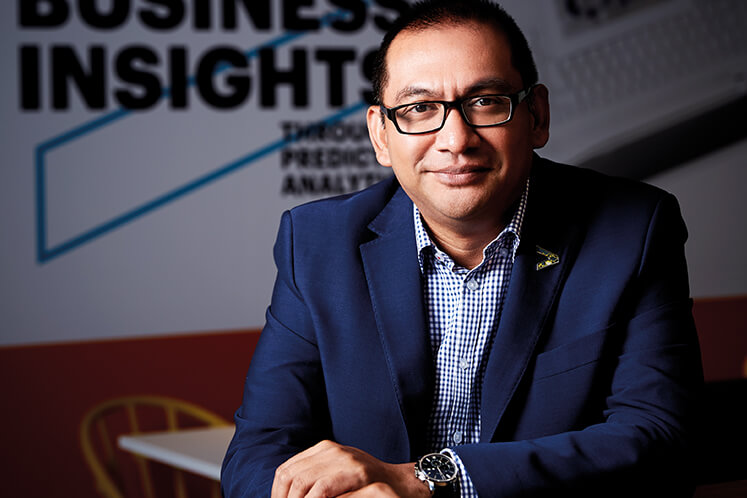 Azwan Baharuddin, country managing director of Accenture Malaysia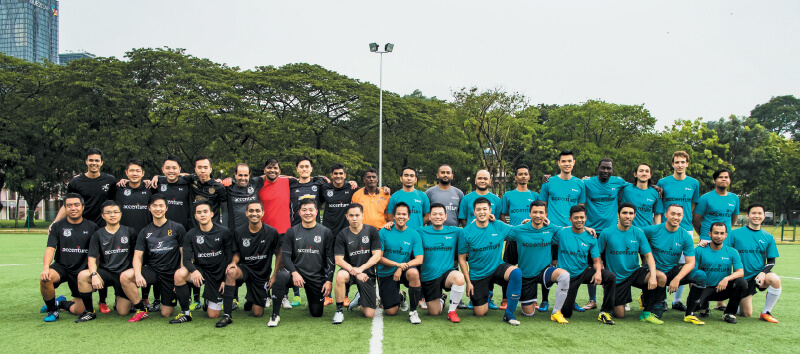 A display of teamwork and camaraderie at the Singapore-Malaysia intercountry football match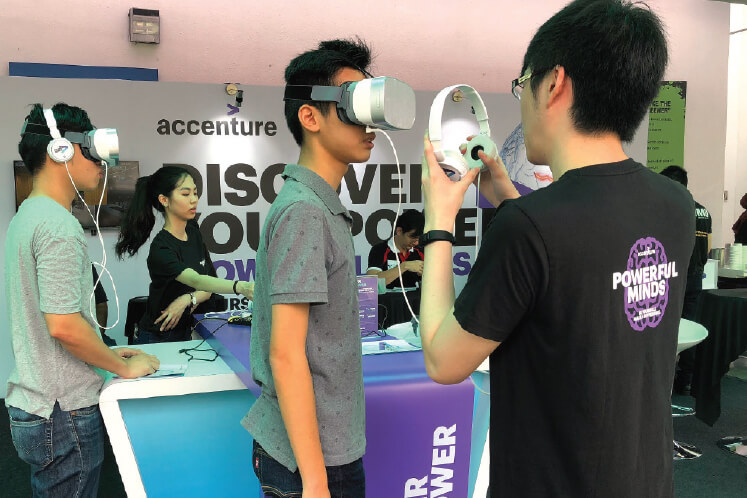 Students of Multimedia University trying the VR360 Immersive Experience
In an era where the world is undergoing constant innovation and rapid digitalisation, Azwan Baharuddin, country managing director of Accenture Malaysia, is more than glad to be in the thick of the action. He speaks to Shalini Yeap about the company's work culture, challenging  the status quo and his passion for technology.
In many ways, the DNA of Accenture — a global management consulting and professional services firm — and the personality of its country managing director Azwan Baharuddin mirror one another. Both are vibrant, technology-driven and always up for a challenge. Azwan who assumed the role last year has an infectiously energetic vibe about him. He speaks with such gusto that can only be indicative of a man who thoroughly enjoys what he does.
I quickly learn that this zest for life extends beyond work, and I come to understand this better as Azwan shares a harrowing experience that changed his outlook on life. Just before moving to Accenture, a serious bout of dengue fever left him in an induced coma for two weeks, which he awoke from only to be hit by a multi-drug-resistant superbug. "The doctors had told my family to take me home as there was nothing else they could do. But by some miracle, I began to recover after spending four months in a hospital bed."
Interestingly he says it was work that drew him to recovery. "It gave me a focus and I wanted to travel again," he explains.
"I questioned why I had recovered when doctors believed I had zero chance of survival," says Azwan, who at that point began to ponder about the purpose of his life. He began questioning how he could help the nation and make it a better place. When he joined Accenture last year, the tagline
#MalaysiaReimaginedNow had just been created and Azwan believes it is more relevant now than ever before. "If we just leave it to the politicians, it will never happen. It takes two hands to clap; the people and businesses need to join hands. I thought this was a brilliant place to anchor that ambition."
Though he is an economics graduate of the University of Leicester in the UK, with an MBA from the same university, his passion, without a doubt, is technology. "All my life I have been ahead of my time," he says, referring to his circle of friends who are 10 to 20 years older than he is. "On the one hand,  it is great to surround yourself with people who are wiser than you, so to speak … [But] I keep my youthfulness by keeping my tech interest alive. I also play video games and immerse myself in that universe to calm down and not think about work," he says.
Upon graduation, his first job was as an IT assistant at Bank Bumiputera Malaysia Bhd. A turning point in his career came when Azwan was roped in to record the minutes of a meeting because the general manager's secretary was on leave. The meeting was to discuss the bank's core banking transformation effort and involved the global leadership team. At the end of the meeting, he asked if he could offer some of his opinions on the matter — wary that it might be construed as "speaking out of turn" — but the team was impressed with what he had to say. Two weeks later, Azwan found himself being offered the role of project manager and he developed codes for the bank's new system and went on to work at its treasury department soon after.
He eventually landed himself a position with one of the bank's software implementation vendors, Temenos, which required him to travel throughout Europe in an implementation and advisory role. Globetrotting for work was normal for him at this point, and he moved abroad to join private bank Brown, Shipley & Co, where he assumed the role of chief investment officer at the age of 27.
Azwan returned to Malaysia not long after and worked at Arthur Andersen Business Consulting for three years before spending another five at Electronic Data Systems. Though at that point he had never done sales, Azwan, who considers himself something of a risk-taker, decided to give it a go. He hit a personal milestone in his final year with the company, when he was awarded Asean Sales Leader, having delivered over US$2 billion in sales.
Prior to his current appointment, over the last 10 years, Azwan held various leadership positions in Asia-Pacific with Ernst & Young — implementing strategic initiatives to grow the business in the region. In addition to a knack for managing people and a wealth of experience, Azwan brings to Accenture a new perspective to leverage its innovation-led mindset to contribute to building a future-ready nation.
"My job at Accenture combines business with the ability to be at the forefront of all things new, especially digital …Things move so fast in this industry and can quickly become outdated, but because of my natural interest in new technology, I can pick things up faster," says Azwan, who turns 46 this year.
Early adopter of ideas
His joining the company is timely — someone who has always been at the forefront of digital innovations coming on board as it pivots the new.
    Accenture, as we know it today, stems from a long-standing history of innovation. It all began in 1951, when Joseph Glickauf of Arthur Andersen's (as it was known then) administrative services division, unveiled his Glickiac computer and convinced his partners to invest in the emerging technology. The firm's expansion began at that time, first beyond the US in 1955, to Europe two years later and to Asia in 1967.
With a current headcount of 442,000, Accenture takes pride in being a leading global professional services company and has the numbers and figures to prove it. It has appeared on Fortune's World's Most Admired Companies List 16 consecutive times, in addition to multiple other lists including the Fortune Global 500, Barron's 500, Financial Times' FT 500, Top 50 Companies for Diversity, Fortune's 100 Best Companies to Work For, Dow Jones Sustainability Index and the Standard & Poor's 500 Index. The company provides a broad range of services and solutions in strategy, consulting, digital, technology and operations, including the coveted Lean Six Sigma methodology, to a clientele in over 120 countries working across 40 industries.
Early adoption of technology and challenging the norm has meant many milestones for the company. "We cannot fear new technology. I don't think jobs will be lost per se — a different job will be created at a much higher level of productivity. If you can do something faster, cheaper, better and with a more holistic scope of services, wouldn't you want that?" says Azwan, referring to automation, artificial intelligence and robotics. That said, he does wonder where this will lead us in terms of human interaction, seeing that even now so many things take place on a screen.
One of Accenture's latest initiatives, known as Leading in the New, helps its clients identify demographic shifts, social and cultural changes as well as technology-led innovation. The company, which has a strong foundation in the early adoption of technology and challenging the status quo, continues to expound these ideas through spotting and understanding relevant innovations early on and successfully integrating them into existing business models.
An example of this was demonstrated in April, during a campus recruitment drive at Multimedia University, Cyberjaya. Students took an interactive, virtual reality tour known as the VR360 Immersive Experience, which offers a glimpse of life in Accenture. Embedded in the tour is a profiling tool that generates an analysis of the standout traits of the students and how they would fit in with Accenture's philosophy, "Be Yourself, Make a Difference".  The immersive VR recruitment drive was the first of its kind. It was held again at Monash University Malaysia and is slated to be used at Taylor's University Malaysia later this month.
It comes as no surprise that the country managing director of the global professional services company is an early adopter of technology himself. One of Azwan's new gadgets at the moment is the Mavic Pro drone, which he enjoys exploring with his children.
His interest in the digital world was piqued well before he assumed his current role; in fact, it happened as early as the age of 10. He laughs as he recalls the story behind his passion for technology.
"Just like anyone my age at the time, I was interested in playing [video] games. I used to play them with my neighbour and, quite honestly, I wanted to cheat and get better scores. So, I learnt how to break the game and freeze memory components so I would not run out of credits. When my father found out, he sent me to programming classes so I could put my passion to good use," says Azwan, a certified Java J2EE programmer from the University of Reading, who is also adept in a number of other programming languages.
The changing work landscape
Perhaps a less known fact about Accenture is that its name was born in an internal contest held in 2000 to pick a new name. The winning entry was the brainchild of a Norwegian employee, Kim Petersen, who submitted  "Accenture" representing "accent on the future".
Always moving with the times, the company has advocated various initiatives, ranging from social advocacy to sustainability, for over six decades now. It has come a long way since Susan Butler was named its first woman partner in 1979, and it continues to support a more gender-balanced workforce, setting a new goal last year to achieve a perfectly balanced workplace comprising 50% women and 50% men by 2025. As at March, women represented over 40% of the global headcount while in Malaysia, 46.5% of employees are female.
Every year since 2005, the company has hosted International Women's Day celebrations, which have grown to include talks on various important issues and in-depth research into matters of interest. Following last year's Getting to Equal study, which indicated that digital fluency and technology can close the gender gap in the workplace, this year's research grouped together the 40 factors that can help foster a culture of equality.
In light of Accenture's commitment to help students build computer and science, technology, engineering and mathematics (also known as STEM) skills, the Malaysia branch hosted more than 100 children of employees for its Bring Your Kid to Code Day, last
December. Globally, the company has committed the talent and energy of its people by pledging to complete more than 10,000 hours of coding, to which the local office contributed 130 hours last year.
Apart from the rapid changes in terms of digitalisation and adoption of new technology, Azwan has noticed changes taking place in the workforce too. Referring to the generation called millennials, he says, "About 70% of the population in Accenture are under 30".  
Azwan can often be found playing his favourite video game, FIFA18, or spending time with his two teenage children — at times even as a willing collaborator on the latest social media trends — when he is not working or enjoying a social game of golf. He finds that keeping abreast with social media helps him to better relate to and understand the millennial demographic.
Much has been said about millennials in the workforce and the opinions are varied. Azwan's first thought on working with this generation that makes up the majority of Accenture's employees is, "It is fun! I enjoy the interaction and, quite frankly, the debate ... However, I do not take anything as a foregone conclusion, one can always do better.
"I find that when you open yourself up to uncertainty, a lot of creative and phenomenal ideas can come out of working together. I have learnt to adapt and deal with the instant feedback that you get from millennials," adds the man who considers himself an optimist and says he is "used to the predictable and methodical approach of the generations before them ... But time and time again, they come up with fantastic solutions. Their style of thinking allows for a lot of creativity".
While some may view millennials' lack of experience as a disadvantage, Azwan begs to differ. "They are full of ideas but at times lack experience, which may mean a lack of wisdom. But there is a trade-off — the more wisdom you have, the less you do because you worry that things may not work," he says.
Be that as it may, Azwan says one of the challenges is keeping this younger generation of employees constantly engaged. He finds that the solution to this lies in seeking out that sense of purpose, which he understands well, having at some point sought it out himself.
On the issue of loyalty, Azwan says millennials have very little. "They are a 'no fear' generation, which is refreshing but just like the solutions they create — which are unpredictable — I am not sure what is going to happen when they get older. Will they become more conservative? That remains to be seen," he says contemplatively.
Never one to shun a challenge, he does not necessarily see any of these aspects in a negative light. "If I keep winning, I don't want to play that game anymore!" he smiles, referencing his love for playing video games. One way to keep employees motivated and excited is by offering a variety of work and additional responsibilities, which is likely to be expected of a company that constantly embarks on cutting-edge digital solutions.
"Our business is about people, that is our core asset. But it is easy to get carried away thinking people are happy. Self-realisation is an important thing and once you achieve that, you will get loyalty — not only from the millennials but from anybody for that matter," he says, elaborating on the issue of loyalty, which is at the crux of Accenture's principles. The company takes pride in the fact that of its top 100 clients, 98 have worked with the company for at least a decade.
"Come to think of it, I have never actually used my economics degree!" he concludes with a laugh. Nevertheless, his career path has been an interesting one, building up to his current role at Accenture, which he says is the perfect fit. "The day you stop learning from the people you work with is the day you should leave," he says.
For someone whose work is fuelled by a zeal to be better and do better, his present role as country managing director presents many new opportunities to be explored — a journey that Azwan is clearly excited to be on. Well done indeed for someone who actually did have a second shot at life.