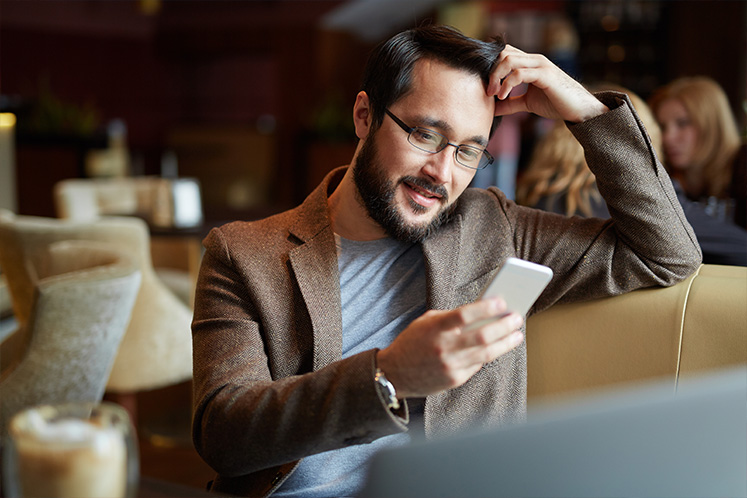 High speed connectivity, security, and cost efficiency from MAXIS are key factors in providing businesses with the best VoIP experience
When communications application Skype entered the Malaysian market, it made a splash. For the first time, people could speak to each other halfway around the world with just a decent Internet connection. Gone were the days of exorbitant call charges and confusing calling cards.
Messaging service WhatsApp came soon after. And when the service introduced its voice call function, again, it felt like a significant milestone had been crossed.
With its voice call function, we were then able to communicate worldwide with just mobile data and a smartphone. Such communication was no longer tethered to cumbersome telephone units as in traditional fixed phone lines.
So why have small businesses not fully caught on to this?
Malaysia's hardworking small and medium-sized enterprises (SME) community is a long-time pillar and key contributor of employment and economic activity in Malaysia. Even so, their contribution can be further strengthened if they embraced new opportunities. Digital technology is a key factor that presents unparalleled opportunities to boost growth, expand jobs and accelerate innovation for SMEs. Despite this trend, the extent of information and communications technology usage among SMEs is predominantly limited to very basic products and services such as smartphones (91.4%), a basic Internet connection (90.1%), and a desktop computer or laptop (86.5%).
But even within these basic tools, simple enhancements could result in even higher productivity gains for small businesses.
For instance, in this age of mobile data-powered international calls, small businesses still seem inexplicably tied down to their fixed phone lines. Of course, it is undeniably important to have a business number and be within reach of one's clients.
That said, the international business community is gradually doing away with traditional fixed lines, preferring to run their communications through a dedicated, high-speed internet connection.
Fundamentally, this is not unlike individuals making calls on WhatsApp while connected to a wireless internet service.
Historically, traditional fixed lines have been an expensive service to subscribe to. Small businesses end up having to make a significant capital outlay for the individual phone lines, and on top of that, sometimes have to manage their own telephone devices. More often than not, these landlines are shared among multiple staff, which invariably means missed calls.
Further, with employees' now more inclined to conduct much of their professional communication via smart devices, small businesses in Malaysia have a major challenge on the horizon.
Their legacy telephony infrastructure is in danger of becoming an expensive and underutilised white elephant.
To this end, voice-over-internet protocols (VoIP) could be a major productivity game changer.
Where traditional landlines use dedicated copper wires to transmit calls, VoIP technology leverages on an existing high-speed Internet connection to transmit one's voice as data packets over the internet. With this one key innovation, small businesses stand to gain significant cost savings.
Further, a VoIP service allows a small business to use mobile phones as an extension of the office phone. This means the small business' phone number can be answered from just about anywhere.
Gone are the days when answering the business line meant being tied down to a desk all day.
By far the most significant advantage of a VoIP service is the sheer scalability. Traditional landlines are limited by the number of lines that a business has chosen to have connected.
Additional lines mean more installation and upgrading works, not to mention the prospect of unscheduled downtime to the small business' telephony.
By contrast, a VoIP system only requires a stable, high-powered Internet connection, and this enables the service to support a potentially unlimited number of lines. This drastically reduces installation and maintenance costs.
These are just some of the major productivity gains that small businesses stand to enjoy by subscribing to Maxis' latest superfast ONEBusiness Fibre service. A comprehensive two-in-one package, businesses will first enjoy a significant internet upgrade with high-speed fibre optics at one of three speeds (300Mbps, 500MBps, or 800Mbps).
Once the business' high-speed internet connection is up and running, Maxis then proceeds to set up and configure the VoIP service enterprise-grade IP voice service.
As a digital enabler, Maxis is well-placed to provide both the high-speed fibre and VoIP fixed voice service directly to small businesses.
There are no middlemen to deal with, nor do small businesses have to acquire any external hardware or software. Everything is provided and installed by Maxis' team of dedicated "Maxperts".
The expert support includes installation, on-boarding, as well as round-the-clock troubleshooting services.
Further, both the VoIP fibre internet and fixed voice services are complemented with a wireless back-up system, thus ensuring that businesses do not suffer any downtime for either their internet connection or voice calls.
The supercharged communication service is attractively priced, and is certainly orders of magnitude cheaper than legacy landlines. Maxis offers very attractive rates and in fact, provide businesses with call rates that are up to 40% cheaper than traditional landlines.
The sheer scalability and efficiency of the technology is enhanced further as Maxis provides the hardware free of charge. Businesses will get the analogue telephone adapter, which connects all related communications devices to the business' internet router.
In addition, Maxis will provide a phone replete with features like call-forwarding, call-transfer, and other essential telephony functions.
As with any Internet-enabled ecosystem, security and peace of mind is a major consideration. And this is especially true for small businesses, as any kind of breach or hack could be a blow from which the business might not recover.
On this front, Maxis provides an additional, comprehensive cybersecurity protection suite which shields customers and employees from malware and other harmful applications. The suite cloud-based security platform powered by Cisco.
The world today is at one's fingertips, even as it becomes ever more expansive.
With the passion, tenacity and grind of Malaysia's small businesses, coupled with Maxis' cutting edge support and technical mastery, there are new global opportunities just waiting to be discovered. To find out more about ONEBusiness Fibre, please visit business.maxis.com.my/businessfibre.