This article first appeared in City & Country, The Edge Malaysia Weekly, on January 9, 2023 - January 15, 2023.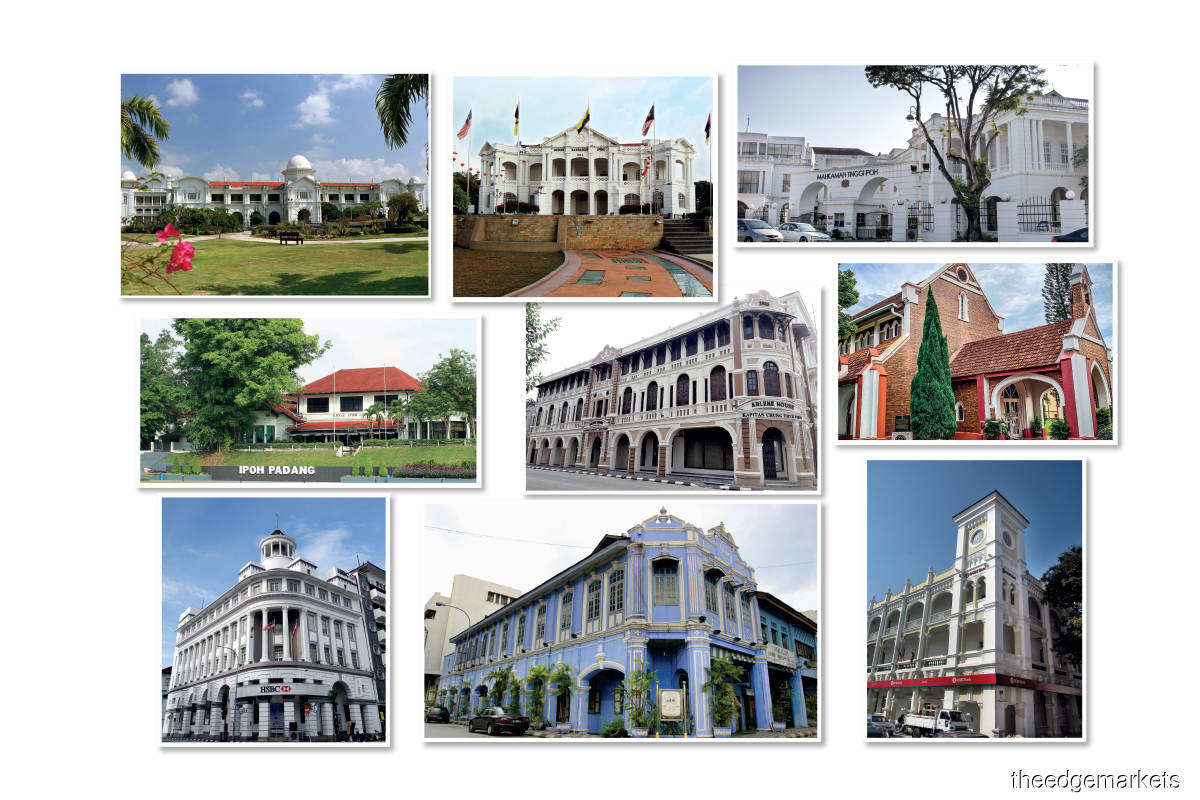 Ipoh, a former tin mining town in Perak, has gained recognition as a popular tourist destination with its colonial centre, traditional shophouses and delicious food. Here, we take a look at the Ipoh Old Town Heritage Trail, an interesting walk that passes several historical sites.
Ipoh Railway Station
Designed by the late English architect and soldier Arthur Benison Hubback, the Ipoh Railway Station was built between 1914 and 1917 and was the second concrete station to be constructed in Ipoh. Completion of the station was delayed for three years due to a lack of construction materials and high costs during World War I.
The station closely resembles its Kuala Lumpur counterpart and is affectionately known to locals as the Taj Mahal of lpoh. The overall layout of the station has remained largely unchanged after more than 100 years of operation by the Federated Malay States Railways and Keretapi Tanah Melayu Bhd.
It is an impressive landmark that combines Moorish architecture with modern embellishments, and is surrounded by a beautiful garden that serves as a charming welcome for tourists, according to tourismperakmalaysia.com.
Ipoh Town Hall and Old Post Office
The construction of this neoclassical-style building, designed also by Arthur Benison Hubback, started in 1914 and was completed in 1916. The building was divided into two sections: the front served as the town hall while the back was used as the post and telegraph office in 1928.
The Malay Nationalist Party — the first political party formed in Malaya — held its inaugural congress here in 1945. It was also used as the district police headquarters in 1948. Currently, the building is used as a function space for concerts, wedding banquets and other public events, according to ipohpedia.com.
Ipoh High Court
Constructed between 1926 and 1928, the Ipoh High Court, said to be the third courthouse complex in Ipoh, was constructed to replace older courthouses in service from 1888 to 1909. It was opened by Perak British resident R W Thompson on July 14, 1928.
Located diagonally across from the Ipoh Town Hall in Jalan Maharajalela, it is believed that there was an underground passage connecting both buildings. During the Japanese occupation, it was also used as a high court by the Japanese. Visitors are not allowed to enter the High Court unless they are lawyers, police officers or judicial staff, according to ipohheritage.mbi.gov.my.
Church of St John the Divine
The Church of St John the Divine, situated in St John's Road and near the Royal Ipoh Club, was the largest in Malaya when completed in 1912. The history of the church dates back to 1906 when the Anglicans held their monthly services in an old wooden courthouse. As the congregation grew, it raised funds to build a church.
During World War II, the church was converted into a noodle factory. It was restored and reverted back to a place of worship after the war in September 1945. The chaplaincy system was also replaced by a parochial church council in 1947, with representatives from the European, Tamil and Chinese communities.
The church has English-style architecture with a red-tiled roof and bricks cemented with coconut fibre, sugar and egg whites, among others. The church compound has a kindergarten, multipurpose hall and living quarters, according to perakheritage.wordpress.com.
Royal Ipoh Club
Established by a group of Ipoh-based 
Europeans in 1895, the Royal Ipoh Club was used by the Imperial Japanese Army as a laundry house for the officers living at the nearby St Michael's Institution during the Japanese occupation.
According to royalipohclub.org.my, the black-and-white clubhouse is one of the old landmarks overlooking the Ipoh Padang (field) and has been declared one of the heritage buildings in Ipoh.
During the early days, the ruling British limited club membership to whites. Malaysians were gradually admitted as members after the country attained independence in 1957.
Now the club, which has the Sultan of Perak, Sultan Nazrin Shah, as its royal patron, remains private, with access for members and their guests only. It also provides seven 3-star rooms that are available to travellers, according to tourismperakmalaysia.com.
FMS Bar & Restaurant
FMS Bar & Restaurant is an iconic landmark located in Jalan Sultan Idris Shah. FMS stands for Federated Malay States. Founded by a Hainanese immigrant in 1906, it is said to be the oldest bar and restaurant in Malaysia. During the early days, it was a popular meeting point for European miners and planters as well as a favourite watering hole for sportsmen who played cricket, rugby and football at the Ipoh Padang nearby.
In March 2008, the FMS Bar & Restaurant was closed as it could not sustain its business due to rising costs and dwindling patronage. It reopened its doors in 2019 after it was renovated and upgraded to Durbar FMS Bar, according to tourismperakmalaysia.com.
Chung Thye Phin Building
The Chung Thye Phin Building, also known as Arlene House, was built in 1905 by Kapitan Chung Thye Phin. He was a prominent tin miner, rubber planter, general-revenue farm owner and the last Kapitan Cina of Malaya. The building, located in Jalan Dato Maharajalela, was used as the headquarters of his vast business empire during the tin era of Malaya.
According to arlenehouseipoh.business.site, the building was later occupied by Dr R M Connelly's Medical Hall, followed by Oldfield Dispensaries Ltd and George Town Dispensary Ltd. This heritage building of neoclassical Victorian-Palladian design underwent eight years of conservation and restoration work, from 2012 to 2020, to return it to its former glory.
A history, culture and art gallery mu-
seum called Made In Ipoh was established as part of the building's adaptive reuse to showcase the stories, life and legacy of the last Kapitan Cina of Malaya with a collection of exhibitions. It can be rented for photography and videography works, events and exhibition activities.
Hong Kong and Shanghai Bank (HSBC)
The historical Hong Kong and Shanghai Bank (HSBC) building, built in 1931 and featuring Neo-Renaissance architecture, was the tallest building in Ipoh until after independence. Its striking features were used to attract bank clients and tenants, including professionals, businesses and mining companies.
According to tourismperakmalaysia.com, the HSBC branch in Ipoh first opened in 1910 in a modest wooden building provided by the government near the Ipoh Post Office. The bank subsequently rented a space in the Straits Trading Company building in Station Road, also known as Jalan Dato Maharajalela, in 1911, before moving to its current location in Jalan Sultan Yusof in 1931.
The building originally had two stories — the ground floor was used for bank ope-
rations and the upper floor was used as a guest room for the bank's higher-ranking officers. Another floor was added later to accommodate more employees and officers, according to ipohpedia.com.
Straits Trading Building (OCBC)
Featuring Italian Renaissance architecture with a corner tower, the Straits Trading Company, a major tin ore exporter, erected this three-storey building in Jalan Dato Maharajalela in 1907.
The Straits Trading Company was founded by the late Singaporean tin-smelter Herman Muhlinghaus in 1889. The company procured the mineral from tin miners in the Kinta Valley, and at its peak handled half of all sales of tin produced in Perak. The wealth generated from the mining industry allowed the Straits Trading Company to construct a building in the Ipoh Old Town area. Now, the stately building has maintained its beautiful structure and houses the main branch of OCBC Bank in Ipoh, according to ipohpedia.com.