This article first appeared in The Edge Malaysia Weekly, on January 30, 2023 - February 05, 2023.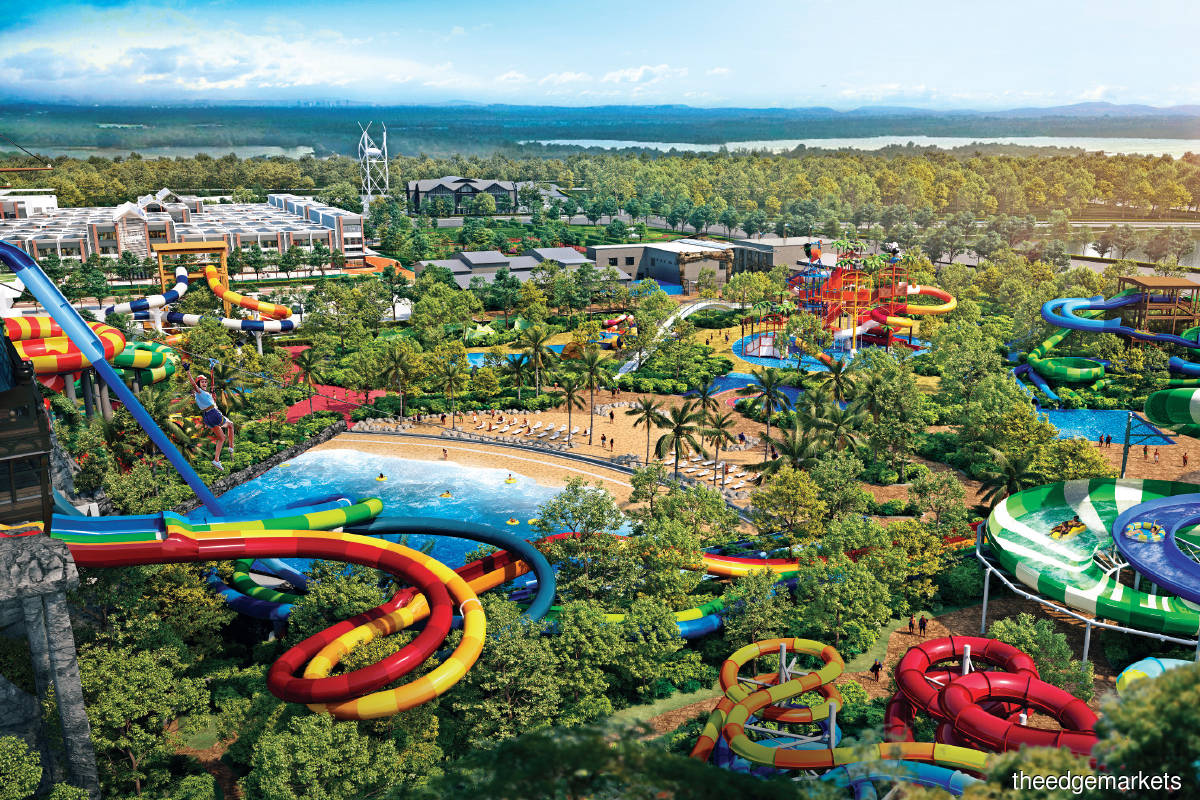 THE theme park and family attractions industry, which suffered losses to the tune of RM4.8 billion between 2020 and 2022 due to the Covid-19 pandemic, is on the mend. Players anticipate that this year their businesses will be able to recover to the levels achieved in 2019, at least in terms of visitor count.
The industry, which also witnessed several permanent closures during the pandemic — including Perak Corp Bhd's Movie Animation Park Studios (MAPS) in Ipoh — is now beginning to see new players enter the market and existing operators adding attractions or investing to spruce up their parks — an indication that the worst may be over.
A few weeks ago, the RM90 million The Bertam Souk and Water Park theme park began operating on a 19.77-acre site in Kepala Batas, Seberang Perai, Penang. In February, Gamuda Land will open its 18-acre SplashMania Waterpark within the Gamuda Cove township in Banting, Selangor, offering 24 water slides, including a virtual reality waterslide, and 15 key attractions.
Sunway Group's Sunway Lagoon Resort, Selangor, in December unveiled its Wild Wild West-themed night park. Developed jointly with dairy manufacturer Farm Fresh, the attraction features a mini cow barn. Meanwhile, Only World Group Holdings Bhd plans to add 20 new Jungle Gyms this year in malls and standalone outfits while Legoland plans to make a "significant" investment to enhance its facility in Johor.
"The family theme parks, attractions and recreation industry was badly hit during the pandemic. In 2020, the industry lost RM2.8 billion and another RM2 billion in 2021 and 2022. Total losses sustained by the industry in the three years are estimated at RM4.8 billion," the Malaysian Association of Theme Parks and Family Attractions (Matfa) president, Tan Sri Richard Koh, tells The Edge.
Unlike the retail and hotel segment, it is taking this hospitality segment longer to bounce back because it was the first to shut due to Covid-19 restrictions and the very last to be allowed to reopen to the public. And when they could resume operations, theme parks were initially only allowed to operate at 50% capacity and accept only fully vaccinated visitors.
Nevertheless, things have started to look up, particularly after the country entered the endemic phase in April 2022. Koh says revenue for the industry in 2022 was at 80% of pre-pandemic 2019. This year, he expects it to fully recover to the 2019 level.
Domestic tourists make up the bulk of patrons
Koh says the improving performance is attributed to better footfall, mainly from domestic tourists. However, while some parks rely completely on the domestic tourism market, there are others that depend on foreign tourists. These would include The Top Penang, Legoland, Sunway Lagoon, Genting Highlands, Pahang, and Desaru Coast in Johor.
"The international tourist footfall has yet to fully recover," he says. "We are still not out of the woods, especially since the industry has been badly hit by a labour shortage."
CS Lim, division director at Legoland Malaysia Resorts (LMR), tells The Edge that LMR has been seeing a gradual increase in park visitations, hotel bookings and general enquiries from both local and international travellers since the travel restrictions were lifted. "We continue to welcome guests to our resort, while attracting more people to choose Johor as a preferred destination."
LMR operates Legoland Park, Legoland Water Park and Sea Life Aquarium. It also operates the Legoland Hotel, which offers themed rooms.
 According to Lim, LMR is unique in that it is a one-stop holiday destination, built on Lego DNA, where children get to learn through play and nurture their creativity.  "While we command strong support from Lego fans and our long-term annual pass holders, we are also doubling down on growing [the number of] new and repeat visitors."
Accordingly, LMR plans to continue to invest in resort enhancements as well as new amenities, interactive activities and learning experiences. This year, LMR will embark on major construction of new shades and cooling fans at Miniland. Miniland showcases Asia's most iconic landmarks, built with over 30 million Lego bricks. Also on the cards is the refurbishment of Legoland Hotel, which will include new themed rooms to enhance the guest experience, and the launching of a new and exclusive 4D movie screen at Lego Studio.
"We certainly hope that the magnitude of visitor [numbers] can reach pre-pandemic levels. As we look forward to it, there are opportunities for LMR and the industry as a whole to shift its focus from recovery to reinvention, ensuring that we continue to meet the needs of our guests and beyond," Lim says.
He notes that the world has changed significantly since the pandemic. "Travel activities have resumed, but preferences and habits have evolved. Today, families, more than ever, are seeking destinations and attractions that offer unique and memorable experiences with convenience and safety as part of the deciding factors."
He points out that, being the only Lego-themed resort in Southeast Asia, LMR is uniquely positioned to provide families an all-in-one holiday destination. "We are optimistic about the future of Malaysia's tourism, driven by continued support from the government in revitalising tourism. We are also ready to welcome more visitors from abroad, especially with the reopening of China's border, which will contribute to the growth of the industry and adjacent segments."
Meanwhile, Sunway Theme Parks executive director Calvin Ho says the performance of its parks, post-pandemic, is on the road to recovery in terms of visitor count. Ho says Sunway Theme Parks is looking forward to healthy visitor numbers as people gain confidence to venture out and are reassured by Sunway Theme Parks' brand and offerings.
Sunway Bhd operates the Sunway Lagoon Theme Park and Sunway Lost World of Tambun Theme Park in Perak. The former sits on an 88-acre site and offers some 90 attractions while the latter sits on 40 acres and includes a zoo park with a night safari.
"The new attraction is our Night Park, where "The Good, The Bad, and The Wild" features Western culture," Ho says of its recent addition. The theme park also launched Camp Out! in late 2021. It is an upgraded version of your typical camping trip that includes a hot barbeque steamboat meal, private pools and a bed inside Sunway Lagoon. Sunway Lagoon reopened on Oct 7, 2021, while Sunway Lost World of Tambun resumed operations on Oct 18, 2021.
Ho adds that while Sunway Theme Parks is on a recovery path, the recovery of its financial performance hinges on certain external factors, including flights into the country. Prior to the pandemic, half of Sunway Lagoon's visitors comprised foreign tourists.
As such, he says the group's 2023 performance relies on the overall recovery of the tourism industry and inbound tourism, which would then contribute towards visitor numbers at Sunway's theme parks. Ho expects China opening its borders to have a positive impact on its parks.
Challenges
One of the factors hampering a quicker recovery of the theme park and attraction industry is the labour shortage. Matfa's Koh hopes that the government will assist in speeding up the approval process for foreign hires as the current online application process takes several months.
He says the government has taken steps in the right direction to expedite foreign labour recruitment in the construction and food and beverage sectors and is hopeful that the same will be done for the hospitality industry, including theme parks and attractions as well as retailers.
"The tourism and hospitality sectors are greatly in need of non-technical crew such as park crew and technical crew who can handle daily maintenance and safety. The industry also requires IT technicians for on-ground support," Koh highlights. "Only a few locals are interested in working in this sector."
This shortage is causing some theme parks to close some of their attractions or rides and delay openings. Worse, Koh says, is when there is staff movement in the industry, especially when new players enter the market.
Koh also urges the government to enable the fast-tracking of visitor visa approval to help boost foreign arrivals.