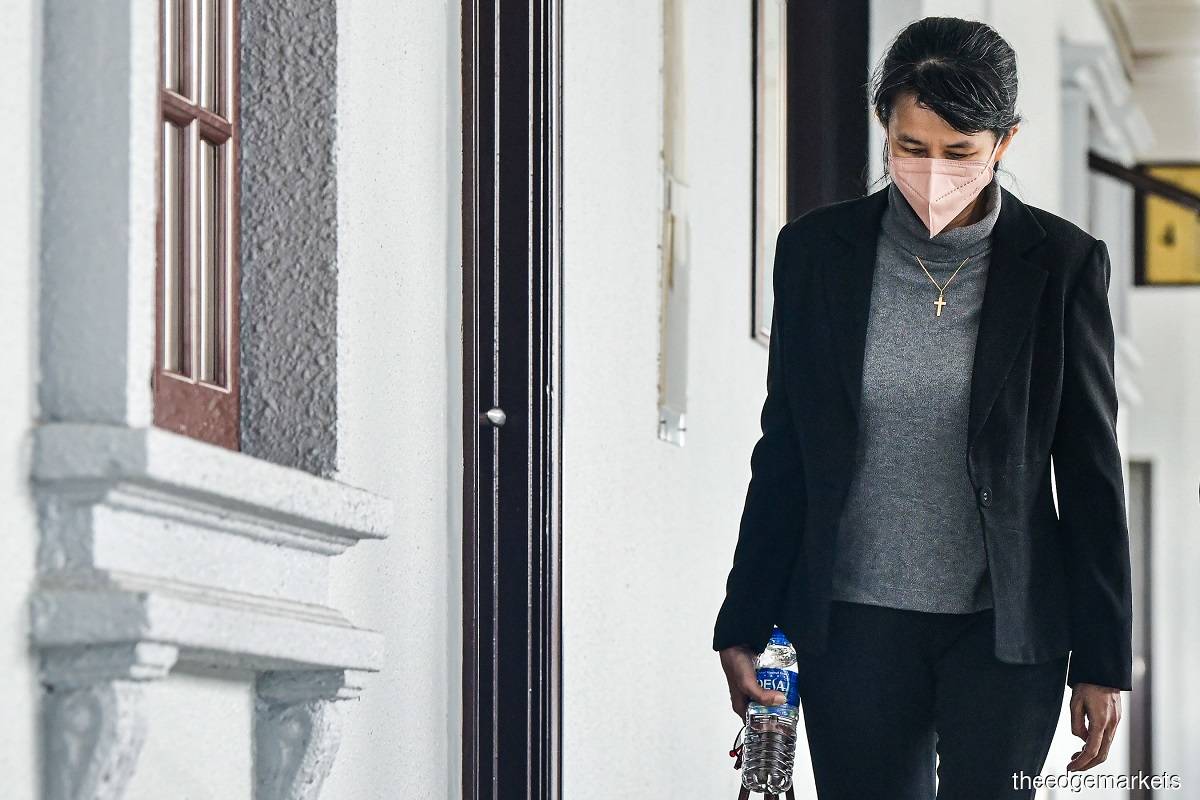 KUALA LUMPUR (Feb 7): Former AmBank relationship manager Joanna Yu Ging Ping on Tuesday (Feb 7) denied assisting in money laundering activities with regard to Datuk Seri Najib Razak's bank account.
Testifying under cross examination by Tan Sri Muhammad Shafee Abdullah, the 51-year-old Yu said she did not think the then prime minister could have been involved in money laundering.
Shafee had questioned Yu over the Blackberry messenger exchanges she had with fugitive businessman Low Taek Jho (better known as Jho Low), following previous transfers made in United States (US) dollars and where she had asked Jho Low to use other currencies because there had been queries.
Jho Low had wanted to transfer US$15 million into Najib's account and told Yu that he would be transferring 15 "American pies" (his code name for the US dollar). Yu suggested that the transfer be made in GBP (British pound sterling) as prior to this, she stated that there were queries from the Wells Fargo bank following a huge transfer made in the past.
"I was informed from the remittance division that there were two queries made by Wells Fargo over such a huge transfer and they wanted to know who the recipient was. This follows that the US dollar was being watched by some people and there was a query from Wells Fargo," she said.
Shafee: When you suggested British pounds, it was to stop (prevent) a query over funds coming in and out?
Yu: I did that so as not to disclose the PM's name (who owns the account).
Shafee: When you are suggesting to do it in GBP, aren't you participating in a money laundering offence?
Yu: It is to protect the identity of the account holder, as this was the instruction from Jho Low.
Shafee: You believed wholesale what Jho Low said?
Yu: Yes, I believed that.
Shafee: On hindsight, you assisted Jho Low in a money laundering offence?
Yu: The request was to keep Datuk Seri Najib's account confidential, as he is the [then] prime minister of Malaysia. It did not strike me as somebody using the PM's account in doing money laundering.
The witness, the 41st by the prosecution, further said the remittance and compliance division of the bank told Wells Fargo that everything was in order with regard to the previous transfer in American dollars.
Nevertheless, as mentioned in court, Jho Low managed to transfer £750,000 to Najib's account on June 18, 2014.
Yu: I believe Najib was kept informed
The former relationship manager said she did not know that AmBank's former group managing director Ashok Ramamurthy had grilled the remittance and compliance division of the bank over the huge transfer of funds.
Yu also agreed that the confidentiality of the client does not remove her from her duty to report on money laundering (activities).
She agreed with Shafee that Najib had never told the bank that he (Najib) should be treated above the law.
Shafee: This information released — that this money was kosher (clean) or halal — you would have protected the PM rather than harm him?
Yu: I believe he (Najib) was kept informed as he issued cheques and kept using his credit card. The money was there for him to use.
At this time, Shafee argued that his client (Najib) believed that the money was from a Saudi donation.
Yu replied that she believed it was Jho Low's responsibility to update Najib on the account.
When pressured further by Shafee, the witness agreed that she did not know that Jho Low was (allegedly) a conman.
The former relationship manager agreed that Najib may not know the state of his banking account, and had he known, he would not issue cheques if there was no money.
Shafee: There is a distinct possibility that he (Najib) [did] not know the state of the account?
Yu: It is possible.
Shafee: [If] nobody [had gone] round to top-up (Najib's account) as there was no more donation money, he (Najib) would have closed the account?
Yu: I am not sure what the PM thinks, but the cheque issued by him would have bounced. I was asked by Jho Low and Nik Faisal Ariff Kamil (Najib's mandate holder for the account) who asked on several occasions not to let the cheques bounce.
When suggested by Shafee that she, along with Jho Low, had perpetrated fraud, Yu disagreed, as she believed they were protecting the PM.
"I was told there were funds incoming (to supplement the issuance of the cheques)," she added.
Yu agreed that it was possible that Najib may have closed the account if he had discovered that there were no more funds in the account.
"It is possible, but I would not know what he would do," she added.
Najib closed four of his banking accounts and credit card accounts between Aug 30, 2013 and March 9, 2015.
Shafee: Jho Low was "helter-skelter" over insufficient funds to conceal state of affairs from Najib.  
During Tuesday's proceedings, Shafee also ventured that Jho Low was always "helter-skelter" over insufficient funds and cheques that could possibly bounce. This, Shafee said, could be due to Low wanting to conceal the "truth" about Najib's accounts from the former premier.
Yu said what she believed was that Low's behaviour was possibly because he wanted to avoid the embarrassment or negative impact if the then prime minister's cheques were to bounce.
She also confirmed that a cheque issued from Najib's accounts had never bounced.
"We have returned the cheques on certain occasions but [the cheques have never] bounced," she said, adding that the cheques were returned due to wrong dates or some similar technicality.
Shafee then suggested to Yu that Jho Low had avoided the cheques from bouncing because that would have alerted Najib about the "truth" of the state of his accounts.
Yu disagreed, adding that she did not know what transpired between Jho Low and Najib.
The former prime minister, who is currently serving a 12-year jail sentence (and has been issued a RM210 million fine) due to his conviction in the SRC International Sdn Bhd case, is facing four charges of abuse of power and 21 counts of money laundering in this 1Malaysia Development Bhd (1MDB) trial.
The trial before judge Datuk Collin Lawrence Sequerah continues on Wednesday (Feb 8). 
The Edge is covering the trial live here.
Users of The Edge Markets app may tap here to access the live report.
Aniza Damis & S Kanagaraju