This article first appeared in The Edge Malaysia Weekly, on February 6, 2023 - February 12, 2023.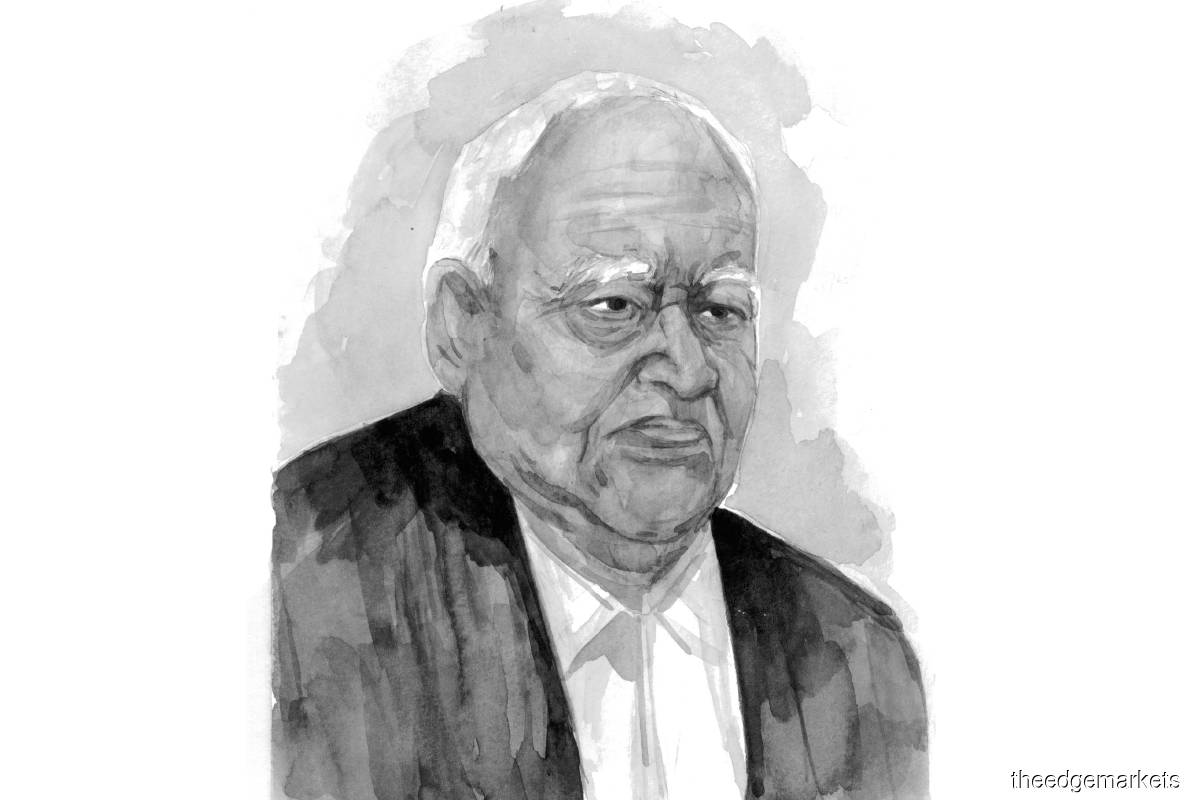 AS tributes to the late Datuk Seri Gopal Sri Ram roll in following news of his death, recognising him as someone with a great legal mind and unparalleled knowledge of case law and judgments, for me as a journalist, I will always remember him as a true patriot.
The 79-year-old former Federal Court judge passed away on Sunday, Jan 29. He reportedly had been hospitalised in mid-January due to a lung infection.
While I only covered the courts on a permanent basis from 2005, I came to know of the legendary Sri Ram when he presided over Fawziah Holdings Sdn Bhd vs Metramac Corporation Sdn Bhd at the Court of Appeal around that time. In the case, his observations in his judgment ruffled the feathers of quite a few personalities on the corporate and political scenes.
It is worth noting that the remarks were later expunged.
Known for his sound legal knowledge and photographic memory, Sri Ram always cited passages from judgments in support of his submissions or made judgments off the cuff while on the bench. He has certainly raised the standards for judges, prosecutors and lawyers to follow.
A strict taskmaster, perhaps due to his training as a teacher before becoming a renowned lawyer, Sri Ram was described by many, including deputy public prosecutor Ahmad Akram Gharib, as a fatherly figure who will be sorely missed. Ahmad Akram, along with other DPPs formed the prosecution team led by Sri Ram in the ongoing 1Malaysia Development Bhd-related cases — namely, the 1MDB-Tanore trial and the 1MDB audit report tampering case — involving former prime minister Datuk Seri Najib Razak.
During the 1MDB-related trials, or the solar hybrid graft case involving Najib's wife Datin Seri Rosmah Mansor, Sri Ram's legal prowess was on full display in the courtroom, leaving many in the public gallery in awe of him. Indeed, his is a hard act to follow in the legal fraternity.
Sri Ram was always early in court despite his advanced age and occasional mobility issues, which meant he would sometimes be in a wheelchair. His examination in chief and re-examination of witnesses in the trials were something we journalists looked forward to, as this was the side of him that was rarely seen, having mostly been on the bench for 16 years.
While many lawyers initially questioned his return to private practice after retiring as a Federal Court judge in 2010, many now recognise his contributions in developing new precedents and case law. But as I mentioned earlier, my impression of Sri Ram is that he was a true patriot.
He once told me how indebted he felt to Malaysia and called the country "tanah keramat", or sacred land. He said that whatever happened or however bad the situation was in the country, it would survive and recover. Such was the optimism that Sri Ram shared personally with me, when I asked his opinion on political developments following the 14th general election.
"Ini tanah keramat, we must not lose hope. We have many resources and should not abuse them. Whatever obstacles, we can overcome," he said.
Despite his position and busy schedule, Sri Ram would not hesitate to respond to questions from journalists after a trial and he would always reply to our WhatsApp messages. He also willingly shared documents referred to in court that had been tendered and accepted as evidence. Normally, documents tendered in court and marked as evidence can be reported.
While he had a stern demeanour, Sri Ram would sometimes crack jokes. He once told us journalists that Kuala Lumpur in the 1970s had no buildings taller than four storeys.
When then prime minister Tun Dr Mahathir Mohamad asked why there were no tall buildings in the city, the Fire and Rescue Services Department informed that it did not have ladders catering to structures taller than four storeys. As such, no approval was given by the department to the local council to put up buildings taller than that height.
Following modernisation of the department, which was equipped with better and taller ladders, KL progressed. Sri Ram said the country could now be proud of the Petronas Twin Towers and the second tallest building in the world when the Merdeka 118 skyscraper is completed sometime this year.
Once, when I met him to discuss something, he asked me to accompany him to his car, which was parked in the underground car park at the court complex, with his trusted aide from Sabah, Ariffin, who normally wheeled him around. We chatted until we reached his car.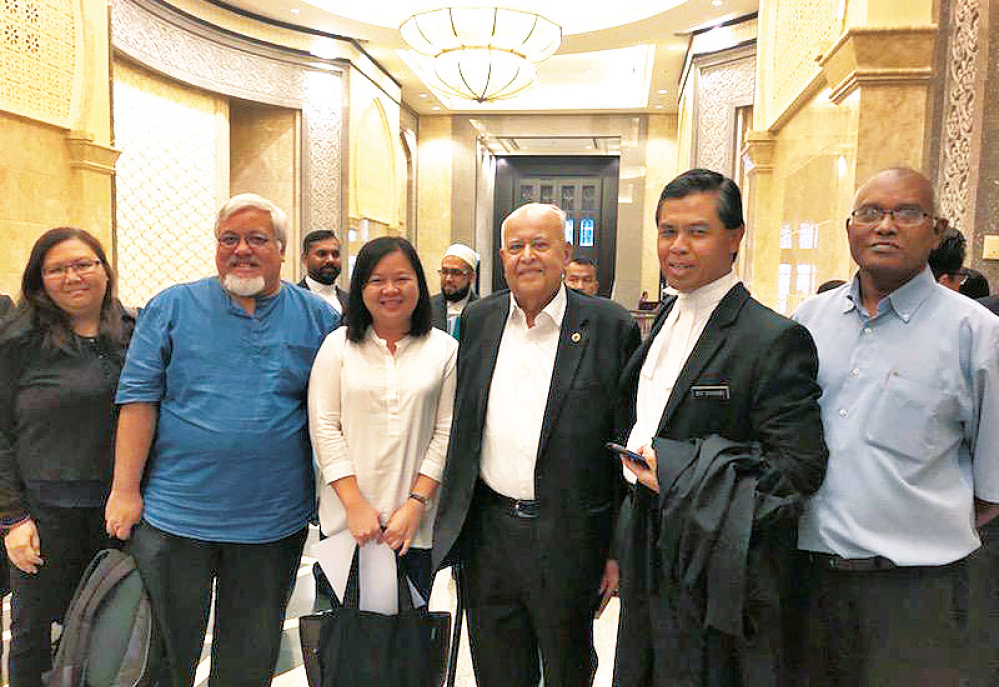 From left: Jocelyn Ann Dragon (Bernama), the writer, Paw Ai Chin (formerly The Edge and Sin Chew), Sri Ram, Attorney General Chambers prosecution head Datuk Nik Suhaimi Nik Sulaiman and V Anbalagan (Free Malaysia Today). (Photo Courtesy of Hafiz Yatim)
He then offered me a ride in his special Vellfire to the car park outside the KL court where my vehicle was parked. While I was hesitant at first, he and Arifin encouraged me to have a seat. While it was a short ride, the conversation we had is something that I will remember and cherish personally.
In the last few times that I met him in person in December during one of the 1MDB cases and then on Jan 4 in an online proceeding at the Court of Appeal, he already seemed unwell. In conversations before the start of the Court of Appeal case, he told those present — including senior federal counsels — that after the case, he was going to the hospital.
Such was the dedication Sri Ram had for the cases he handled despite being at an advanced age. And although he was unwell, he was willing to make an appearance before the appellate bench.
That was the last time I saw Sri Ram. And when news broke that he was in the intensive care unit of a private hospital, I texted him and wished him well.
The legal giant passed away on Jan 29, leaving behind huge shoes to be filled by the DPPs, fellow lawyers and judges who looked up to him. As soon as news broke over his sudden passing, condolence messages were conveyed by Prime Minister Datuk Seri Anwar Ibrahim, his peers among former judges and lawyers.
Just as I wrote that the courthouse would never be the same after the late Karpal Singh died in a road accident in 2014, the same applies to Sri Ram, who has left a lasting legacy and a void that will not be easily filled.
In bidding farewell to Sri Ram, let us remember his words, "ini tanah keramat", reminding everyone to play a role in developing this country well, as it has been entrusted to us for future generations.
A former judge pays tribute
Tan Sri Zainun Ali
Former Federal Court judge
His untimely passing wrong-footed many of us, his friends and colleagues, caught unawares as we were, in the throes of his riveting presence in the high-profile Datin Seri Rosmah Mansor and 1MDB trials.
Even before Datuk Seri Gopal Sri Ram became a household name, he had shown us flashes of his multidimensional brilliance, borne as it were by his prodigious work, discerning judgments and a certain flamboyance, all of which were a potent combination.
Given his larger-than-life presence, it was no surprise that Sri Ram would tackle the unexpected. If his passing had been unforeseen by ordinary standards, it was just true to form because his standards were far from ordinary. In fact, he revelled in being extraordinary!
Upon joining the Bench in the 1990s, he had viewed it with the weathered eye of someone who himself had had a long and productive legal career at the Bar.
His unabashed pitch to the then Chief Justice Tun Eusoff Chin to have me appointed as a judge in 1996 was the forerunner of the numerous acts of selflessness to us, his juniors about the commitment to ideals and dedication to purpose.
In those days, he was nimble; he would stride purposefully to my chambers and plonk books on my desk, for me to improve my "little mind" as he would put it, much to my chagrin. In latter days, he would amble to my chambers, still armed with materials to enlarge my already spacious mind! The difference was his gait; not his searing passion in ensuring that I learn "something"!
One could ask Sri Ram anything. Anything at all. And he would astonish you with his profundity of knowledge. The English poet Oliver Goldsmith must have had people like Sri Ram in mind when he wrote about the village schoolmaster where the village folk stared —
"… And still they gaz'd and still the wonder grew, That one small head could carry all he knew."
Thus, as frustrating as it was sometimes, to sit on the Bench with Sri Ram when he could turn irascible, it was always balanced later with massive doses of avuncularity.
I was deeply privileged to learn directly from his work for he gave me the wonderful gift of working with a judge whose philosophy was that the law, when it is read with care and historical understanding and utilised with judgment and practical vision, can be a formidable instrument of justice for everyone; for letting me understand the intellectual rigour that characterises the judicial process at its best.
Thus, if ever there was a judge who so clearly defined a record of true greatness, Sri Ram will win by a large margin. His passing is truly the passing of an era and our loss is acutely felt.
May God bless his soul.