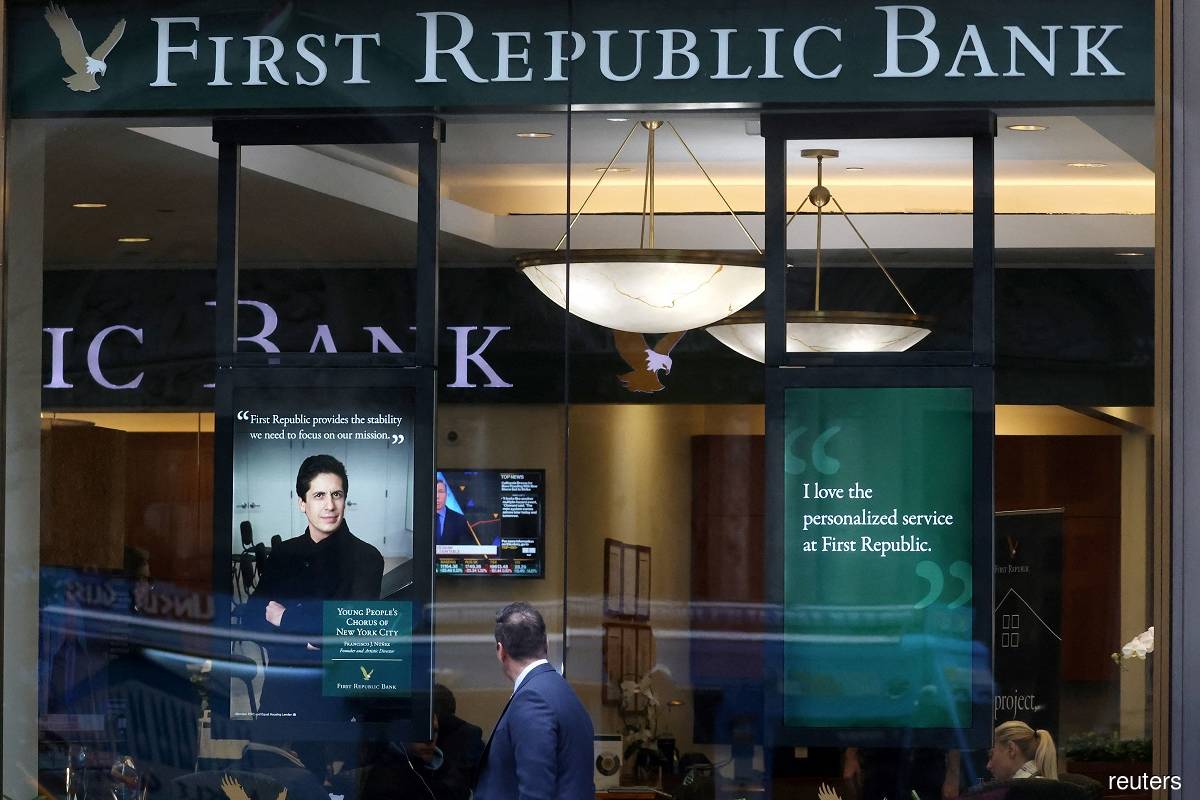 LONDON/BENGALURU (March 17): Shares of First Republic Bank slid 24% in early trading on Friday after being briefly halted as US$30 billion in deposits injected by large US banks failed to quell investor worries about the beleaguered lender.
Fears of an imminent collapse of the bank prompted an unprecedented deal put together by top power brokers including US Treasury Secretary Janet Yellen, Federal Reserve Chairman Jerome Powell and JPMorgan CEO Jamie Dimon on Thursday.
First Republic suspended its dividend and disclosed it has US$34 billion in cash excluding the new deposit injection.
The lender also disclosed it had borrowed up to US$109 billion from the US Federal Reserve and an additional US$10 billion from the Federal Home Loan Bank on March 9.
"The significance of the changes in (the company's) balance sheet in just one week are staggering... and along with the suspension of the common stock dividend, paints a very dire outlook for the company and shareholders," said KBW managing director Chris McGratty.
Shares of Wall Street banks including JPMorgan Chase & Co, Citigroup Inc, Bank of America Corp and Wells Fargo & Co involved in the San Francisco-based lender's rescue dropped between 3% and 4%.
Founded in 1985, First Republic had US$212 billion in assets and US$176.4 billion in deposits as of the end of last year, according to its annual report.
First Republic has been caught up in a widening banking crisis triggered by the collapse of two mid-size US lenders over the past week. Its stock has lost nearly 80% in value this month.
"Possibly the market is looking for an all-out sale/buyer rather than an injection of capital," said John Petrides, portfolio manager at Tocqueville Asset Management.
"This situation is not over yet."
The rescue package came less than a day after Swiss bank Credit Suisse clinched an emergency central bank loan of up to US$54 billion to shore up its liquidity.
Fed data on Thursday showed banks sought a record US$152.9 billion in emergency liquidity from the US central bank over recent days, surpassing previous high that was set during the most acute phase of the financial crisis.
The borrowings speak to the "funding and liquidity strains on banks, driven by weakening depositor confidence", Moody's said. The ratings agency had downgraded its outlook on the US banking system to negative earlier this week.